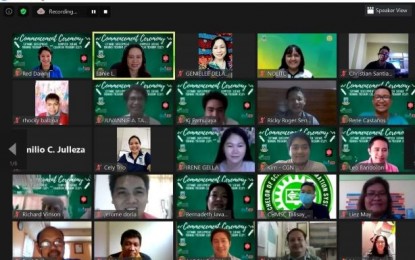 BACOLOD CITY – Some 170 Negrenses completed their training in two courses during the first virtual graduation ceremony of the Capitol-run Negros Occidental Language and Information Technology Center (NOLITC) here on Wednesday.
The graduates included 70 under the Software Development Training Program (SDTP) and 100 who attended the Computer Science Education Program (CSEP) for senior high school teachers.
The two courses were offered by the NOLITC, located at the Paglaum Sports Complex, in partnership with the Coders Guild.
Ma. Cristina Orbecido, the NOLITC school vocational administrator, said the event is a way forward to rise above the coronavirus disease 2019 (Covid-19) crisis.
"We need to create solutions and this endeavor is a creative solution to surpass the disruptions brought about by the pandemic," Orbecido said.
She noted that SDTP trainees were even able to contribute to the development of the Management Information System of the Covid-19 results in Negros Occidental.
"This is a concrete example of scalable initiatives made by the government. Technology is our only way to continue doing business without being infected," Orbecido said.
The SDTP awardees included EJ Von Taasan, who finished as Top Scorer in Phyton Level 2 Assessment Examination, as well as Bernie Basas, Eljohn Manjero, Jerwin Fortillano, and Ragie Doromal for Best in Web Design.
Orbecido also congratulated the senior high teachers for completing their virtual classes.
"This is just the first phase of the CSEP and there (are) still many things that we need to do to transform the digital landscape of the province," she added.
Coders Guild founder Joey Gurango challenged the public school teachers to be enablers of change.
"Be facilitators of technology and learn how to do your job without a physical classroom or a physical location," Gurango added.
Marie June Castro, gender and development (GAD) action officer of the Provincial Gender and Development Focal Point System, who represented Governor Eugenio Jose Lacson during the virtual ceremony, said even before the pandemic, the provincial government has envisioned that all graduates of NOLITC would not only be technically competent but also become advocates of gender equality and women empowerment.
Castro added that 10 percent of the province's PHP206 million GAD budget is allocated to the various scholarship programs of NOLITC, such as the SDTP and CSEP.
"While some offices manifested their intention to waive a portion or return in full their GAD funds because they cannot implement face-to-face training or capacity building, NOLITC was quick in amending its proposals to incorporate safety protocols and the adoption of new normal in its training programs," she said. (PNA)