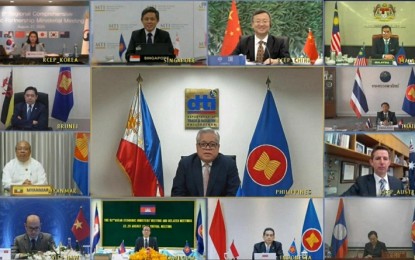 MANILA – Trade Secretary Ramon Lopez said on Thursday the 15 trade ministers of participating countries of the Regional Comprehensive Economic Partnership (RCEP) have "resolved almost all remaining outstanding issues" of the mega trade deal.
Trade ministers of the Association of Southeast Asian Nations (Asean) and the bloc's five free trade agreement (FTA) partners –Australia, New Zealand, China, Japan, and South Korea– held the 8th RCEP Intercessional Ministerial Meeting virtually.
India was once part of the RCEP, however, Prime Minister Narendra Modi announced that the South Asian country is backing out from the deal as it is not yet ready to commit to the level of liberalizing tariff lines which most of RCEP members want.
RCEP trade ministers have expressed that they want to conclude the FTA this year amid the coronavirus disease (Covid-19) pandemic.
"The conclusion of RCEP negotiation is a good symbol that notwithstanding the current pandemic, many great things can be accomplished, such as the affirmation of an international rules-based system for trade and investment in the region," Lopez said.
The 15 RCEP members account for 30 percent or 2.2 billion of the world's population and combined gross domestic product of USD23.8 trillion.
Initiated by Asean in 2012, RCEP aims to further reduce tariffs on goods for freer movement of merchandise in the Asia Pacific region.
"With RCEP, enhanced market access for trade and investment will be established. This means that the Philippines can improve its export competitiveness in key products—such as garments, automotive parts, and agricultural products like canned food and preserved fruits— while encouraging more investments in the country in vital sectors such as research and development, financial services, game development, and IT-BPO (information technology-business process outsourcing)," lead negotiator and Trade Assistant Secretary Allan Gepty said. (PNA)