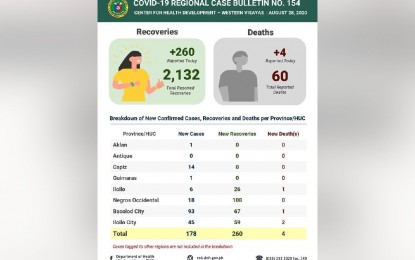 ILOILO CITY – The total number of coronavirus disease 2019 (Covid-19) cases in Western Visayas has exceeded the 4,000-mark, the regional health office reported on Friday night.
The region logged its highest single-day confirmed cases and recoveries at 178 and 260, respectively, the Department of Health - Center for Health Development (DOH-CHD) 6 (Western Visayas) said in its latest bulletin.
An initial 182 confirmed cases were recorded out of the 572 laboratory results released by the seven sub-national and molecular laboratories on Friday.
Four of the new cases, however, were tagged to other regions and were not included in the official breakdown of cases in Western Visayas.
This brings the total number of confirmed Covid-19 cases in the region to 4,073, and total recoveries to 2,132.
Bacolod City logged the highest number of the day's new infections with 93; Iloilo City had 45; Negros Occidental, 18; Capiz, 14; Iloilo province, six; and one each for Aklan and Guimaras.
Meanwhile, the 260 who recovered was broken down into 108 for Negros Occidental, 67 for Bacolod, 59 for Iloilo City, and 26 for Iloilo province.
The four new deaths that were recorded brought the total number of fatalities in the region to 60.
Two of the four were from Iloilo City, and one each from Iloilo province and Bacolod City.
Out of a total of 4,073 cases, 1,519 were locally-stranded individuals (LSIs), authorized persons outside of residence (APORs), and returning overseas Filipinos (ROFs); 2,516 were local cases, and 38 were tagged to other regions.
Of the 1,519 LSIs, APORs, and ROFs, 1,290 of them have recovered, while 227 are active cases.
Some 842 of the local cases have recovered while 1,654 are still active cases.
Iloilo City now has 494 active local cases; Bacolod has 492; Negros Occidental, 356; Iloilo province, 225; Capiz, 38; Guimaras, 35; Antique, 12; and Aklan, two. (PNA)