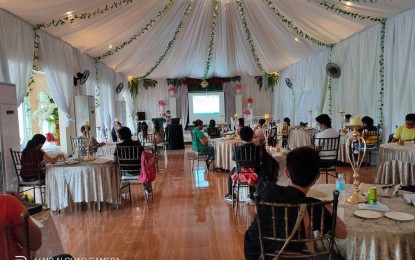 TACLOBAN CITY – A total of 4,410 enumerators were hired in Eastern Visayas to conduct the 2020 Census on Population and Housing (CPH), the Philippine Statistics Authority (PSA) said on Friday.
They will be deployed in their respective local government units in compliance with the "new normal" guidelines due to community quarantine restrictions, PSA Eastern Visayas head Wilma Perante said in a virtual media launching of the 25-day survey which starts on September 1.
"They will be provided with personal protective equipment, alcohol, hand soap, tissue paper, and uniform. They are mandated to strictly observe physical distancing and other health protocols during interviews," she added.
These enumerators have also secured a medical certificate indicating that they have not been a suspect, probable, or confirmed case for coronavirus disease (Covid-19).
Among the six provinces in the region, 1,913 will be deployed in Leyte, 722 in Samar, 543 in Northern Samar, 528 in Southern Leyte, 495 in Eastern Samar, and 209 in Biliran.
"They will be receiving higher than the minimum daily wage rate in the region, plus a fixed transportation and meal allowance," Perante said.
The regional office here also hired a total of 843 team supervisors and 218 census area supervisors.
The PSA aims to cover the region's 4,390 villages in seven cities and 136 towns.
The upcoming census of population and housing was supposed to start last May 4 but was moved four months later due to pandemic that has restricted the people's movement.
It is a nationwide government undertaking that involves the collection, compilation, evaluation, analysis, publication, and dissemination of data on population count, demographic and socio-economic characteristics of the population, housing characteristics, household characteristics, and barangay characteristics in each village, city, municipality, province, and region in the country.
The census also aims to provide government executives, policymakers, and planners with population and housing data on which to base their social and economic development plans, policies, and programs.
Perante said the majority of areas in the country will still adopt the traditional paper and pencil interview but respondents can opt for a telephone interview.
"If they do not want to have a face interview, the respondent will provide a contact number to the enumerator assigned in the areas," she added.
The regional office urged the public to cooperate and support the census conducted once in a decade and assured that all deployed enumerators are in good health condition. (PNA)