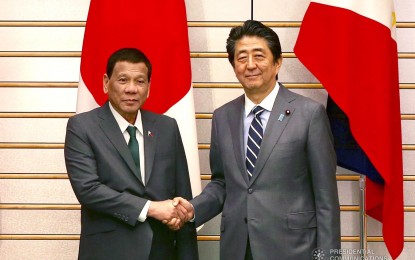 MANILA – The Philippines' ties with Japan have "greatly flourished" during the stint of Japanese Prime Minister Shinzo Abe, President Rodrigo Duterte said on Saturday.
"The bilateral relations between the Philippines and Japan, now a Strategic Partnership, greatly flourished during his tenure," Duterte said.
Duterte issued the statement as he expressed "much regret" when he learned about Abe's resignation.
Abe, who is suffering from ulcerative colitis, announced on Friday his decision to resign because of his "poor health."
The 65-year-old Japanese leader said he would stay in office until his successor is chosen through a poll of selected members of the ruling Liberal Democratic Party.
The four-year term of Abe, Japan's longest-serving prime minister, would have ended in 2021.
Duterte said he would always remember Abe's "kindness and strength of character."
"Through many years of our engagement, I have seen a leader with a bold vision and firm determination to do what was best for his country and our region," he said.
Duterte said he and the Filipino people also consider Abe as a true friend closer than a brother."
He recalled that Abe was even "gracious" to accept his invitation to visit his official residence in Davao City.
In January 2017, Abe toured Duterte's abode in Davao City and had the chance to see the Philippine leader's "favorite mosquito net."
"I and Honeylet welcomed him and Madame Akie warmly to my humble home," Duterte recounted.
Duterte also prayed for Abe's speedy and full recovery.
"What we have worked for and achieved together lays the foundation for an even closer friendship and cooperation between our countries in the future," he said. (PNA)