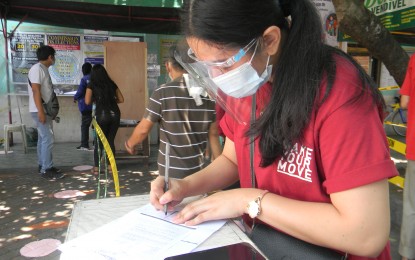 MANILA – The Commission on Elections (Comelec) on Tuesday said it will heed the decision Inter-Agency Task Force for the Management of Emerging Infectious Diseases (IATF-IED) regarding requests of some local government officials to resume voter registration only under the modified general community quarantine (MGCQ).
"So, the request of (some) mayors will be to limit registration only to places with MGCQ. (It's kind of) late in the day since we already started. We have been talking about resuming registration for roughly four weeks now. And I think the timing is unfortunate. On our part, we have involved the IATF (and informed them) that we will be resuming and that we have in fact resumed registration. So we will see what happens when they see that request from the mayors," Comelec spokesperson James Jimenez said in a television interview.
On Tuesday, the poll body resumed voter registration across the country, except in areas under enhanced community quarantine (ECQ) or modified ECQ.
Jimenez said the first day of voter registration went on smoothly.
He added that the registration process in the three cities he visited all turned out fine.
"It's okay for the most part. Registration has been proceeding very smoothly in the areas I personally visited. Manila, Pasay, and Taguig. Organized, in maintaining social distancing... Still low, but the interest is clear, as we expect in the next few days, many people will go out and register," he said.
He, however, admitted that there were also delays or slowdown in the process since many came without their printed registration forms.
"There were delays in filling up the forms, many of them failed to bring their printed forms, that takes them up to 30 minutes that's in triplicate. That is where we have a slowdown. But for the rest of the procedures, there were no problems," he added.
Jimenez said the observance of physical distancing is not a problem inside Comelec offices' premises.
"The problem of social distancing is not within the Comelec premises but outside. For example in Makati, the compound used by the Comelec, social distancing is being practiced but when you get to the streets, they cannot control it, there is crowding. But we asked for the assistance of law enforcers and they reminded the people periodically to move away from each other," he added.
The Comelec has encouraged registrants to download the application form from the Comelec website, www.comelec.gov.ph.
Filing of application is accepted at the all Office of Election Officer (OEO) in municipalities and cities in the country.
Applications may be filed Tuesdays to Saturdays, including holidays, from 8 a.m. to 3 p.m. at the OEO.
The nationwide voter registration period started on January 20, 2020. It will run until September 30, 2021 in preparation for the May 2022 elections.
It was suspended various times since March due to the coronavirus disease pandemic, until it resumed this month. (PNA)