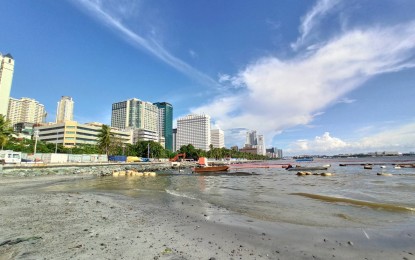 MANILA – The city government of Manila expressed its full support to the national government and the Department of Environment and Natural Resources (DENR) in its implementation of the Manila Bay beach nourishment project that includes the overlaying of "white sand" in the area.
Manila Mayor Francisco 'Isko Moreno' Domagoso, in a press conference on Friday, said cleaning Manila Bay will entail a lot of costs, which is why the city government appreciates all the efforts of the DENR in cleaning the area.
"Natutuwa kami dahil (we are very happy because) they went beyond, to really make more vibrant Manila, we support DENR," Domagoso said.
Reacting to claims of some groups that the crushed dolomite boulders being overlayed along the Manila Bay beach is dangerous to the environment, Domagoso said that it is not for him to say the same and that he trusts that the DENR knows better on the issue.
"I don't think a government agency mandated to protect the environment will be the same to destroy it. That is the reason why they are called the Department of Environment and Natural Resources," he added.
For the meantime, he said that the city of Manila is grateful to the national government for giving attention to the cleanliness of the bay.
He added that the Manila city government is excited as well as to the final outcome of the project.
Domagoso, meanwhile, said the city government will do its share in reviving the beauty of Manila Bay, which is known for its breathtaking sunset view.
"We will continue to clean all those solid waste material in Manila Bay within our territorial jurisdiction. We will try to be more efficient in cleaning up our esteros, tributaries, the creeks, we will continue to clean it up," he said in a mix of Filipino and English.
Domagoso also called on those who live along the Manila Bay area not to throw their garbage and wastes in the water and for the establishment around the bay to follow the rules and regulations being imposed by the DENR most especially with regard to their wastewater. (PNA)