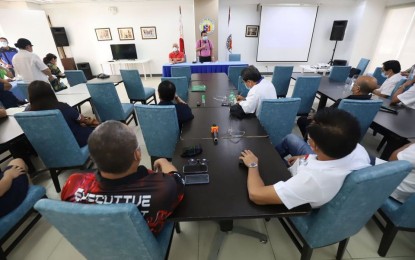 ILOILO CITY – The local government here, with the assistance of the national Inter-Agency Task Force (IATF), is eyeing a comprehensive approach to tackle the increasing cases of coronavirus disease 2019 (Covid-19) in the metropolis.
Retired Gen. Melquiades Feliciano, IATF deputy chief implementer for the Visayas, arrived here over the weekend and has been meeting with this city's Covid team.
"Last week, we discussed many issues and concerns regarding how to make Opcen (operations center) be more proactive in all practices, how to hasten operation, how to capacitate laboratories in Iloilo City," Feliciano said in a press conference Monday.
Feliciano said he was sent by the national government to help Western Visayas, particularly Iloilo City and other provinces in the region, in responding to Covid-19.
He said all their activities are "all data-driven".
"There is a need to capacitate the laboratories here to accommodate all the samples that are submitted and of course address the backlogs on some of the samples," he added.
Feliciano said this city has a more advantage base, it was able to put in place approaches in responding to the disease. However, they would like to have it centralized with the mayor as its head.
There will be some adjustments, he said, to "make it proactive in relation to other concerns that are needed".
"In Iloilo, the numbers are not that high but of course, there will be a certain time that Covid will just spike, it will just surge so this is opening nationwide," Feliciano said.
Over the weekend, the city government sent 1, 9545 swab samples to the Central Visayas molecular laboratory and results are expected to be released the latest on Tuesday.
Another 1,800 to 2,000 specimens will be sent to Bacolod or Cebu Tuesday to reduce the backlogs at the Western Visayas Medical Center Sub-National Laboratory (WVMC-SNL).
"Cebu is open to help Western Visayas because currently, Cebu has higher capacity on testing and faster turnaround time. We would like to also adopt that here of course through the support of DOH7 and the national agency of the DOH," Feliciano said.
He also met and discussed with officials of the DOH 6 and the WVMC SNL the steps to be taken to fast track the processing of samples at the laboratory.
"We agreed it has to be implemented within a week," he said. He added that among those discussed include having the right number and training of personnel, allocation of more spaces, and new equipment for the laboratory. (PNA)