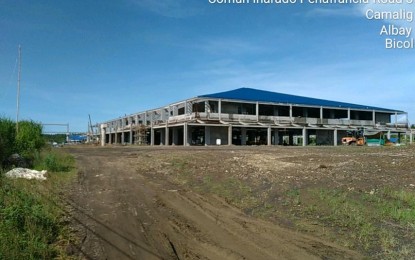 LEGAZPI CITY – Regional Development Council (RDC) chairman, Mayor Noel Rosal has expressed optimism that the Bicol International Airport (BIA) will start operation in May next year.
"Originally the schedule of the opening of the airport will be in December this year but unfortunately, the civil works of the project was affected due to the various level of community quarantine being implemented by the government in connection to the coronavirus disease (Covid-19) pandemic," Rosal said in an interview on Tuesday.
Rosal said BIA operation would bring millions of foreign tourists as well as investors, hoping it would improve the region's economic growth and address underemployment.
He said the pandemic brought huge impact on business sector and the opening of the airport will help revive Bicol's economy.
"The opening of BIA can also improve the tourism industry that will surely give more employment opportunities and it can also improve the livelihood activities of the people in the community by way of creating different products that can be offered to all the tourists and visitors in Bicol," he said.
Last July, Department of Transportation (DOTr) Secretary Arthur Tugade said round-the-clock construction work will be done to hasten the completion of the BIA.
The feasibility study of the BIA originally started in 1996 and the notice to proceed was issued in July 2009.
The construction works for the runway, taxiway, apron and fences were mostly left uncompleted in 2012, and budget was reverted to the national treasury.
It was only when the administration of President Rodrigo Duterte came in 2016 that the construction of Landside Facilities (Project 2A) began. Runway extension and the construction of the Passenger Terminal Building (Project 2B) began in 2017.
The Package 2A includes the landside facilities, such as the administration building, air traffic control building, crash fire rescue building, and the maintenance building while Package 2B covers the construction of the passenger terminal building (PTB) and the runway.
Hailed as the country's "Most Scenic Gateway", the BIA features the iconic Mayon Volcano as its magnificent backdrop.
Once completed, the BIA is expected to strategically boost air traffic and tourist arrivals in Albay province and spur regional growth in the Bicol Region, making it an economic powerhouse.
Rosal said the city government of Legazpi will focus on the recovery of the economy as his administration will continue to implement the minimum health standard to flatten the curve of the Covid-19.
As of Monday, the region has 1,938 confirmed cases of Covid-19, with 1,304 recoveries and 32 deaths, according to the Department of Health data. (PNA)