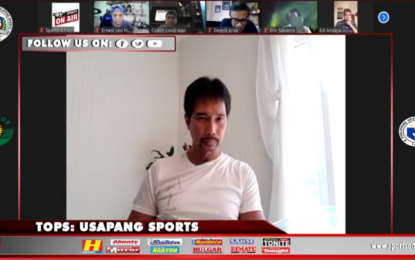 MANILA – Former University of Santo Tomas (UST) basketball star Ed Cordero confirmed on Thursday that he applied as head coach of the Growling Tigers for the upcoming University Athletic Association of the Philippines (UAAP) season.
"I just sent an email yesterday to Fr. (Ermito) de Sagon signifying my intention," Cordero said in the online Usapang Sports forum by the Tabloid Organization in Philippine Sports.
He has just joined a growing list of former Tigers who are eyeing the coaching post vacated by Aldin Ayo, among them Siot Tanquingcen, Chris Cantonjos, Estong Ballesteros, and Gilbert Lao.
Ayo resigned as UST's head coach on Friday night.
The UAAP, however, did not spare Ayo from sanctions despite his resignation as the league slapped him with an indefinite ban.
If he gets accepted as head coach, Cordero plans to quickly convene the players who have decided to stay put.
"Kung sino ang natira, kailangang makausap sa lalong madaling panahon (I need to talk to those who remain as soon as possible)," he said. "We have to tell them na ganito ang plano (that this is the plan)."
Amid the investigation of a training bubble that Ayo allegedly put up in his hometown of Capuy, Sorsogon, four of the Growling Tigers' key players – CJ Cansino, Rhenz Abando, Ira Bataller, and Brent Paraiso – left UST and transferred to other colleges, leaving only Chabi Chabi Yo and Sherwin Concepcion to lead the squad for UAAP Season 83.
Good thing for Cordero, who was once an assistant coach for Mapua, he knows Concepcion personally since the latter played for Mapua's juniors counterpart Malayan High School for Science.
Cordero starred for UST, then going by the moniker Glowing Goldies, during the late '70s.
He once scored 54 points for UST in a 1979 UAAP game, a league record that stands until today, although former University of the East star Alvin Pasaol came close to eclipsing it with a 49-point blast in 2017. (PNA)