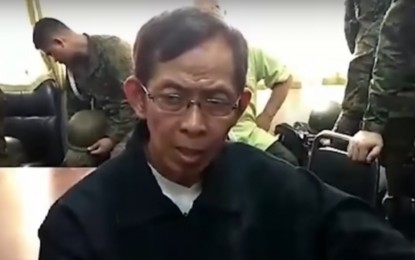 MANILA – Retired Army Maj. Gen. Jovito Palparan has to stay in jail unless President Rodrigo Duterte decides to grant him pardon, Malacañang said Thursday.
Presidential Spokesperson Harry Roque made this remark after former Interior Secretary Rafael Alunan III suggested Palparan's release after Duterte granted absolute pardon to US Marine Lance Corporal Joseph Pemberton.
"There's been a factual decision made by the (Regional Trial Court) na lumabag po siya sa batas (that he violated the law). Pinatawan po siya ng parusa (He was already sentenced)," he said in a virtual presser.
Roque said Palparan's freedom lies in Duterte's hands.
"And unless the President gives him pardon, he has to serve his sentence," he added.
In a Facebook post on Tuesday, Alunan said Palparan should be released since he was doing his duty fighting enemies of the state.
"Treated unfairly after killing a transvestite? Then free Jovy Palparan. He was doing his duty fighting enemies of the state," Alunan said.
Duterte on Monday defended his decision to pardon Pemberton, saying it was wrong to deny him of good conduct time allowance (GCTA) credits since authorities failed to record them.
The President, however, said he was not favoring Pemberton by giving him absolute pardon.
Pemberton was convicted of homicide on Dec. 1, 2015, for the killing of transgender Jennifer Laude in a motel in Olongapo City in October 2014.
Palparan has been serving his sentence at the state penitentiary in Muntinlupa City.
He was convicted for the kidnapping and illegal detention of two University of the Philippines (UP) students in 2006.
Under Section 19, Article IV of the Constitution, the President may grant reprieves, commutations, and pardons, and remit fines and forfeitures after conviction by final judgment.
Absolute pardon restores to the individual his civil and political rights and remits the penalty imposed for the offense of which he was convicted. (PNA)