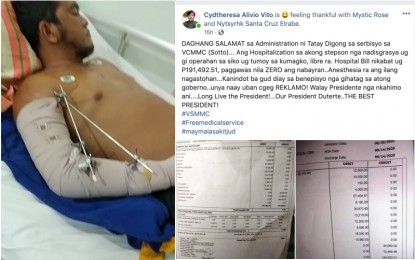 CEBU CITY – A public school teacher took to social media to thank President Rodrigo Duterte for the "zero balance billing policy" that saved her family from the huge payment for the surgery of her stepson who was injured in a road mishap.
Cydtheresa Alivio Vito, a high school teacher of the Abellana National School, narrated on Monday how her family was benefitted by the Universal Health Care program of the government after her stepson figured in an accident on Aug. 21 in Barangay Gun-ob, Lapu-Lapu City.
"Daghang salamat sa administration ni Tatay Digong sa serbisyo sa VSMMC (Vicente Sotto Memorial Medical Center). Ang hospitalization sa akong stepson nga nadisgrasya ug gi-operahan sa siko ug tumoy sa kumagko, libre ra (Thank you so much Tatay Digong for the services at the VSMMC. The hospitalization of my stepson who figured in an accident and was operated on his elbow and thumb was for free)," Vito said on her Facebook post.
Vito said her stepson, Ryan Cabigas, 25, was driving a motorcycle that rammed two people who were fixing the battery of a multicab beside the barangay road of Gun-ob and hit another vehicle parked next to it.
Cabigas sustained a fractured right elbow and toe of his left foot after hitting the multicab. The doctor amputated the toe to avoid infection and operated on his damaged elbow.
Although Vito was not allowed to visit her stepson due to the coronavirus disease (Covid-19) pandemic, she got information from the patient's sibling that the VSMMC administration did not collect downpayment or deposit for the operation of his elbow.
"Mao ra to gipangayo, anesthesia worth PHP2,500. Na-shock nalang mi nga zero ang bayronon. Wa gani magamit ang Malasakit Card namo (They just asked us that, anesthesia worth PHP2,500. But we were shocked to learn that our bill is zero. We did not even use our Malasakit Card)," Vito told the Philippine News Agency.
The amount reflected on the bill reached PHP191,492.51, but when they went to the cashier to pay before her stepson's discharge from the regional hospital on Monday, the entire family got shocked when they were told that their bill was "zero".
"How good to have a benefit like this (that is) given by our government. Yet, many are still complaining. No president has ever done this. Long live the President! Our President Duterte," Vito said in mixed English and Cebuano, adding that if the hospital intended to collect the entire amount, Cabigas could not have discharged right away after 25 days in the VSMMC.
She said Cabigas' brother, Arcy Paul also heard from other patients who were also due for discharge that they were also saved from more than PHP400,000-hospital bill from the zero balance billing policy under the UHC program.
Secretary Michael Lloyd Dino, the presidential assistant for the Visayas, said hundreds of patients were already benefitted by the medical assistance program of the Duterte administration which seeks to provide Filipinos easy access to the country's health care facilities.
Before the passage of the Republic Act No. 11223 or the UHC Law on July 23, 2018, Dino said the Duterte administration established the Malasakit Center in government hospitals, consolidating all financial assistance to patients.
"That is actually the objective of this government when President Duterte and Senator (Christopher Lawrence) Bong Go conceptualized the Malasakit Center and Universal Health Care, which is to free the Filipino people from the bondage of high cost of hospitalization. Now that they enjoy zero balance billing, people are no longer afraid of seeking treatment in our public hospitals," Dino said.
In February 2018, Duterte launched the first Malasakit Center at the VSMMC and pledged a PHP50 million to fund the medical expenses of poor patients admitted at the regional hospital run by the Department of Health. (PNA)