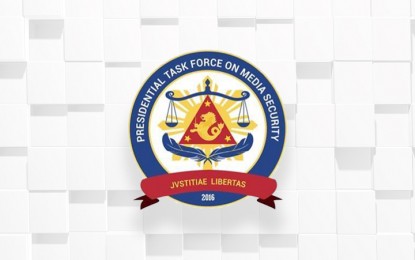 MANILA – The Presidential Task Force on Media Security (PTFoMS) denounced the killing of former radioman Jobert "Polpog" Bercasio who was gunned down by motorcycle riding-in-tandem gunmen near Seabreeze Homes in Brgy. Cabid-an, Sorsogon on Monday night.
"The government strongly condemns the heinous killing of Mr. Jobert Bercasio," PTFoMS co-chair and Presidential Communication Operations Office Secretary Martin Andanar said. "We would like to extend our deepest sympathies to the bereaved family of the victim."
Initial investigation by the Sorsogon City Police showed that Bercasio was shot several times point-blank while onboard his motorcycle by two armed men wearing helmets and black jackets, resulting to the victim's immediate death.
Witnesses said the suspects came from Bolago and fled to the Diversion Road aboard a blue Mio motorcycle after the shooting.
While the motive and identity of the suspects are yet to be determined, local media said the victim was no longer working for any mainstream radio station at the time of his death.
Reports showed he also ran as vice mayor in his hometown but lost. It was only recently that he put up his own Facebook-based program.
PTFoMS executive director Undersecretary Joel Sy Egco said the death of Bercasio has sounded alarm bells over the growing number of purely Facebook-based broadcast platforms being used by a lot of people.
Egco said he would ask the Kapisanan ng mga Brodkaster ng Pilipinas (KBP) and other media organizations on how these "online news" outlets should be treated and how the practice is regulated by any existing group, if any.
"It is important to know how they survive and how they really operate. There are certain privileges here that are lacking. First, the clear non-requirement of a franchise. Second, their business operations. We need to know how they could pay for their salaries and of their staff members if any. Any 'guerilla' type of broadcast operation is dangerous, as it would be vulnerable to all sorts of threats," he said in a statement.
The PTFoMS is mandated to ensure the safety and security of media workers. The task force initially presumes all forms of violence against media workers to be work-related until further investigation proves otherwise.
"We are relentless in pursuing perpetrators behind any attack against our media workers," Egco said. "Mark my words, it will just be a matter of time before the suspects of this brazen act are identified and put behind bars. We will not rest until the killers face justice."
PTFoMS is on top of the situation and is closely coordinating with all law-enforcement agencies to identify and arrest the suspects in the killing, he added. (PTFoMS PR)