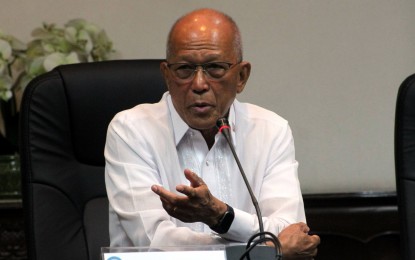 MANILA – Defense Secretary Delfin Lorenzana on Tuesday said he prefers to acquire naval vessels recently retired by South Korea as these are operational and could quickly be put into service with the Philippine Navy (PN).
He made this comment when asked whether South Korea is still offering the Philippines its decommissioned "Pohang" class corvettes which will help in boosting the numbers of the PN.
"South Korea has already given the Navy a 'Pohang'-class frigate (corvette) last year and has made known that they have another two 'Pohang' class available. The PN desires to get them to have three 'Pohang' (corvettes in its inventory)," Lorenzana said in a message to the Philippine News Agency.
He added that the Philippines is keen to avail of this offer especially if it comes at no cost to the country.
"If (it is) no cost to us, why not," Lorenzana said, adding that South Korea is a "better giver as they give a perfectly operational ship."
The "Pohang"-class corvette donated by South Korea to the Philippines, the former Republic of Korea Navy "Chungju" is now known in the PN as BRP Conrado Yap (PS-39).
It was turned over and commissioned in PN service on Aug. 5, 2019, during a short ceremony at the Jinhae Naval Base in Changwon City.
The ship arrived in the Philippines on August 18 of the same year. "Pohang"-class corvettes, especially those designated as Flight II, are optimized for anti-submarine warfare missions.
It is armed with two 76mm Oto Melara automatic guns, two Oto Breda 40mm light cannons, depth-charge racks, and two triple torpedo tubes and surveillance systems like radar and sonar.
The ship measures 88.3 meters long, with a beam of 10 meters and a draft of 2.9 meters with displacement at 1,216 tons full load. It is rated for a crew of 118 personnel and can sustain an operational presence for 20 days.
BRP Conrado Yap's combined diesel or gas (CODOG) propulsion configuration of motor transport unit (MTU) diesel engines and LM2500 gas turbine with controllable pitch propellers (CPP) enable the ship to move to a maximum speed up to 32 knots to a distance of 4,000 nautical miles. (PNA)