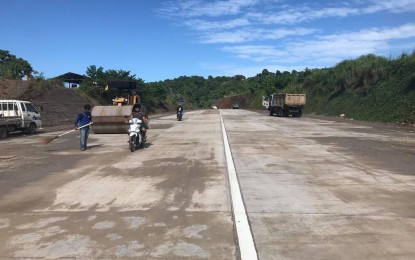 DAVAO CITY – Even amid the coronavirus disease health crisis, Mindanao has become the forefront of the government's Build, Build, Build (BBB) program, widely considered as a key initiative for the country's economic recovery.

"Mindanao is at the front and center of the 'Build, Build, Build' infrastructure program. The Department of Finance has been able to secure financing for some infrastructure and peacebuilding projects in the region even amidst the pandemic," Finance Sec. Carlos G. Dominguez said during the 29th Mindanao Business Conference here last Thursday (Sept. 10).

Dominguez was the keynote speaker of the two-day business event, which was streamed online.

For instance, Dominguez noted even at the height of the pandemic, the government in June this year signed a loan agreement with the government of Japan for the second phase of the Davao City Bypass Construction project.

This project involves the construction of a 45.5-kilometer four-lane bypass road that will begin in Barangay Sirawan in Toril, Davao City, to Barangay J.P. Laurel in Panabo City.

Once completed, the bypass road will reduce the current travel time in the area from an hour and 44 minutes to just about 49 minutes, according to the Finance chief.

Dominguez said the project also includes a 2.3-kilometer mountain tunnel that directly connects Barangay Matina Biao and Barangay Waan in Davao City, reducing the travel time between the two points to less than five minutes from the usual 44 minutes.

Using Japanese technology, the bypass road and tunnel is scheduled to start this year and will be operational by 2023.

Dominguez said that aside from the bypass road project, another ongoing big-ticket infrastructure initiative is the construction of the PHP26-billion Davao City Coastal Road that is expected to ease traffic congestion in the city's downtown area.

The initial 2.7 kilometers of the Davao City Coastal Road Project will be open for public use in the middle of the month, according to the Department of Public Works and Highways (DPWH).
DPWH-Davao Region spokesperson Dean Ortiz said "a few minor works are ongoing on the initial phase that runs from barangay Bago Aplaya in Talomo to Barangay Bucana."

Currently, Ortiz said the coastal road has already attracted joggers and bikers.

DPWH has earmarked PHP2.6 billion for the project's initial phase that started in 2017, Ortiz added.

Dominguez said the two big infrastructure projects form part of the Duterte administration's thrust to position Davao City as the center for agriculture and industry.

He also expressed optimism that the discussions at the recently-concluded Mindanao Business Conference would contribute to the recovery efforts of government amid the disastrous impact of the Covid-19 pandemic.

"I am optimistic that by putting our minds together, we can find the best path to come out of this crisis stronger and more resilient than ever," the Finance chief said.

He also acknowledged the move of Congress to pass the 2021 national budget.

"The timely passage of the 2021 national budget is crucial to our economic recovery. This will provide us with the tools necessary to rebuild the economy and decisively defeat Covid-19," he said. (PNA)