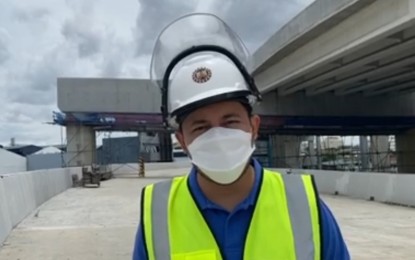 MANILA – The Department of Public Works and Highways (DPWH) is looking to finish the Metro Manila Skyway Stage 3 (MMSS3) project before the end of the year, Secretary Mark Villar said Thursday.
"We are here at the Skyway Stage 3, as you can see, the project is nearing completion. This is part of the Edsa decongestion program of our President (Rodrigo Duterte) and our target is December, by Christmas, this project will be completed," Villar said in a video posted on his Facebook page.
He added that once completed, the 18.83-kilometer Skyway Stage 3 is expected to cut travel time between Buendia in Makati City to Balintawak in Quezon City from the current two hours to only 15 to 20 minutes and can accommodate an average of 55,000 vehicles daily.
Earlier, Villar reported that the current status of the construction of the infrastructure project worth PHP37.43 billion is at 88.72 percent.
Its Section 1 covering Buendia-Quirino-Nagtahan is 90.67 percent complete; Section 2A covering Nagtahan-Tomas Claudio is 77.23 percent; Section 2B or Tomas Claudio-Ramon Magsaysay Avenue is 94.39 percent;
The Section 3 or Ramon Magsaysay-Quezon Avenue is 96.86 percent; Section 4 or Quezon Avenue-Balintawak, Quezon City is 75.67 percent; and Section 5 or Balintawak to NLEX Footbridge is 83.56 percent complete.
He added that the project status does not include Section 2A or the Tomas Claudio-PUP Sta. Mesa segment, which has yet to begin civil works.
Meanwhile, the DPWH announced that the section of the project that collapsed due to fire in February has already been replaced.
In a statement, Villar said the collapsed section of the project has been restored by the concessionaire Citra Central Expressway Corporation (CCEC), as it rushes civil works of the project to make up for the unforeseen delay.
"As of latest report, lower and upper coping beams for pier 3, 4, 5 were reconstructed, and deck slab for spans 5 and 6 were completed as well. These were the burned sections from the fire incident," he added. (PNA)