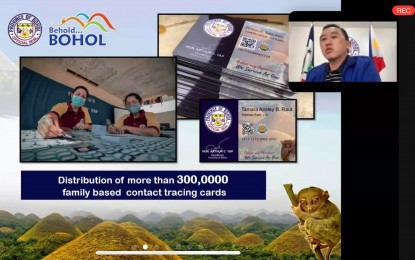 TAGBILARAN CITY – The 19th edition of the Philippine Travel Exchange (PHITEX) commenced on Tuesday through a virtual gathering at the Bellevue Resort in Panglao, Bohol.
This year's travel exchange carries the theme "PHITEX Pivots: Business Unusual", seeing 161 resellers, 124 buyers, and 350 delegates gathered in one online platform for business-to-business (B2B) sessions and networking.
The event showcases the debut of Bohol Tourist contact tracing app and the five-day quarantine protocol for the 49 delegates that arrived in Bohol on Saturday.
Maria Anthonette Velasco-Allones, Tourism Promotions Board (TPB) chief operating officer, said PHITEX is the country's biggest government-organized annual travel trade event since 1996, and has already averaged 190 buyers from 31 countries and 138 Philippine sellers.
Prior to Tuesday's event, Governor Arthur Yap met with the stakeholders in a press briefing via zoom on Sept. 16, along with PHITEX organizers.
Allones said the 124 confirmed buyers come from all over the world including Australia, Brazil, Bulgaria, and other countries in Europe and in Asia, Russia, Africa, Vietnam, among other countries.
Meanwhile, the 161 confirmed sellers are from various areas in the country including Albay, Baguio, Batangas, Bohol, Boracay, Cagayan de Oro, Camarines Sur, Cavite, Cebu, Clark, Ilocos Sur, Iloilo, La Union, Manila, Masbate, Palawan, Tagaytay, Rizal, Samar, Sorsogon, Zambales, and Zamboanga City.
The Department of Tourism (DOT) highly considered Panglao as venue of the event as it is one of the first islands in the country to reopen to international tourists once travel restrictions were eased amid the coronavirus disease 2019 (Covid-19) pandemic, she said.
She cited the province's pool of dedicated leaders, low number of Covid-19 cases, beautiful beaches, resorts, dive spots, and other tourism attractions, and a new international airport.
Travel and other tourism events may have temporarily stopped because of the health crisis, but Allones said the country aims to drive the industry forward by staging the virtual edition of this year's PHITEX.
"Amid the immense challenges for the tourism industry, TPB is leveraging on digital technology as a platform to sustain and explore new opportunities and markets. With this e-conference setup, we endeavor to update our tourism market stakeholders from all over the world with the latest Philippine tourism offerings," she added.
One of the highlights of this year's PHITEX is the Travel Exchange (TRAVEX), a series of exclusive business-to-business appointments between Philippine sellers and foreign buyers, happening for the first time in virtual booths.
Other activities include Philippines 360, a series of online games and quizzes that deal with Philippine culture and the arts.
A specially curated virtual tour of Manila, dubbed as the Philippines' Capital of Fun, is also one of the event highlights, showcasing the city's unique blend of old world and new culture. (PNA)