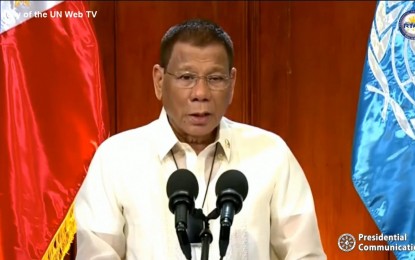 MANILA – President Rodrigo Duterte on Wednesday vowed to continue upholding the rights of Filipinos, in his speech before the United Nations General Assembly (UNGA).
In his 20-minute speech, Duterte vowed to continue to protect the human rights of Filipinos, especially from "the scourge of illegal drugs, criminality, and terrorism."
He also slammed several interest groups for "weaponizing" human rights to discredit his administration.
"They attempt to discredit the functioning institutions and mechanisms of a democratic country and a popularly elected government, which in its last two years, still enjoy the same widespread approval and support," Duterte said.
He said these detractors merely pretended to be "human rights advocates" but did not spare students from "malevolence and anti-government propaganda."
"These detractors pass themselves off as human rights advocates while preying on the most vulnerable humans; even using children as soldiers or human shields in encounters," Duterte said.
The President noted how they "hide their misdeeds under the blanket of human rights but the blood oozes through."
The key to moving forward, he said, is through "open dialogue and constructive engagement" with the United Nations.
Duterte, however, said this dialogue should be done "in full respect of the principles of objectivity, noninterference, non-selectivity, and genuine dialogue."
"These are the fundamental bases for productive international cooperation on human rights," he said.
Despite his tiff with UN rapporteurs regarding his crackdown on illegal drugs, Duterte described the UN as "humanity's essential organization" but also said "it is only as effective as we make it."
"To make significant changes, we need to be bold. We need the same collective courage that finally made the United Nations a reality 75 years ago," he said.
Duterte emphasized the need to act on long-standing recommendations to improve the Security Council's composition and working methods; to strengthen the role of the General Assembly; and to streamline the processes and the operations of the UN.
"Let us empower UN – reform it – to meet the challenges of today and tomorrow. Let us strengthen it so it can fully deliver its mandate to maintain peace and security, uphold justice and human rights, and promote freedom and social progress for all," he said.
Duterte, along with other world leaders, addressed the global body in its annual meeting of heads of state and government at the beginning of the General Assembly session.
He was the 12th head of state to have his remarks aired at the UNGA High-Level Debate.
For the first time in its history, the UN held its General Assembly virtually. No world leader has traveled to New York this year because of the pandemic. (PNA)