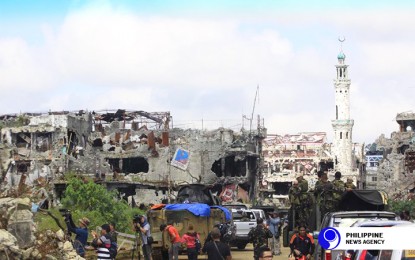 MANILA – Saying "terrorism looms large", President Rodrigo Duterte on Wednesday defended the Anti-Terrorism Act of 2020 (Republic Act No. 11479) before the United Nations General Assembly, describing it as a "legal framework" to help curb terrorism in the country.
"The Marawi siege, where foreign terrorist fighters took part, taught us that an effective legal framework is crucial. Our 2020 Anti-Terrorism Act shores up the legal framework by focusing on both terrorism and the usual reckless response to it," he said in a pre-recorded speech and aired early Wednesday (Manila time) at the High-Level Debate of the 75th UNGA.
The Philippines continues to experience terrorism, the most recent was the two successive bomb explosions in Jolo, Sulu in August that killed several soldiers and civilians and injured 40 others.
Aside from the Marawi siege in 2017, other terrorist attacks include the Jolo Cathedral attack in 2019, and the Davao City night market bombing in September 2016, among others.
Duterte said the anti-terrorism law, which he signed in July this year, adheres to UN resolutions related to fighting terrorism.
"Its enactment was done pursuant to our commitment, and the strict adherence to the relevant Security Council resolutions and the UN Global Counter-Terrorism Strategy," he said.
Duterte said his administration would do its best to protect Filipinos from threats to their safety.
"The Philippines will do everything and partner with anyone who would sincerely desire to protect the innocent from terrorism in all its manifestations," he said.
Duterte also reiterated his commitment to rebuild stricken communities and address the root causes of terrorism and violent extremism in the country.
In the same speech, he committed to increase the Philippine footprint in UN peacekeeping operations with increased participation of women.
He also thanked Filipino peacekeepers for putting themselves in the frontlines against harmful threats.
"I express gratitude to the gallant peacekeepers, including our own, who advance the cause of peace in the most difficult situations," he said. (PNA)