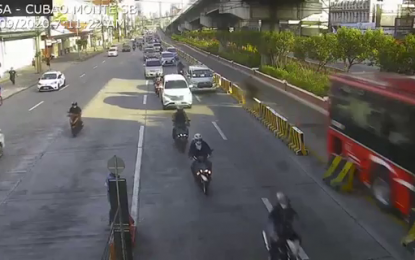 MANILA – At least two separate collision incidents involving concrete barriers along the Epifanio de los Santos Avenue (Edsa) on Thursday were again caused by overspeeding, according to the Metropolitan Manila Development Authority (MMDA).
In an incident report, the MMDA said a southbound city bus operated by Kellen Transport was plying the exclusive Edsa Busway near Monte de Piedad Street in Quezon City around 7:11 a.m. when it grazed and damaged a concrete barrier, creating an obstruction that resulted in another accident.
"Mabilis ang takbo ng bus as seen on CCTV [closed circuit television] kaya nasagi ang barrier at natumba at na-damage, tapos dumiretso lang ang bus (The bus was speeding as seen on CCTV and it hit the barrier—it fell and was damaged—while the bus continued on its way)," the report read.
A CCTV footage released by the MMDA showed that the resulting obstruction blocked a moving Toyota Innova forcing it to stop, and was rear-ended by a motorcycle.
The driver fell down with his motorcycle but no injuries were reported.
Esteban Handig, the driver of the bus, was apprehended, while other MMDA enforcers realigned the damaged barrier and managed the traffic in the area.
Meanwhile, a similar incident happened 10 minutes past midnight involving a northbound Toyota Rush that plowed into two concrete barriers near the Edsa Timog flyover.
The vehicle ended up on its side, almost overturning.
"As per witness sobrang mabilis ang takbo kaya bumangga sa barrier (According to a witness the vehicle was overspeeding that why it collided with the barrier)," according to another MMDA incident report.
It said the driver, Dominador Velasco III, was injured and taken to Delgado Hospital. The road was cleared by MMDA enforcers at 12:56 a.m. while Velasco's vehicle was towed and impounded.
Early this week, a van and a light truck collided with several barriers on Edsa also due to overspeeding.
In early September, an MMDA report showed that majority of road crashes in Metro Manila were the result of overspeeding, distracted drivers, and driving under the influence of alcohol.
Following complaints related to accidents involving concrete barriers in July, Department of Transportation (DOTr) Assistant Secretary Goddes Hope Libiran said that barriers along Edsa were stationary and should not be blamed for crashes, noting that the problem lies with irresponsible drivers. (PNA)