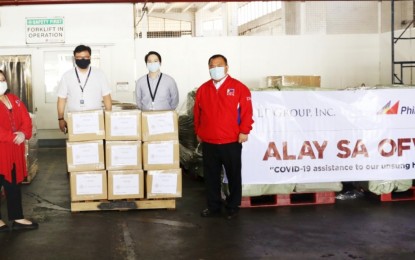 MANILA – The Philippine Airlines (PAL) said on Thursday it turned over the Lucio Tan Group's donations to overseas Filipino workers (OFWs) residing in Beirut, Lebanon.
PAL spokesperson Cielo Villaluna said the carrier will also fly to Beirut on Friday to fetch some 300 OFWs as part of the Department of Foreign Affairs' (DFA) repatriation efforts.
DFA officials led by Undersecretary Sarah Arriola received the donations at the PAL Cargo Complex, and these will then be turned over to the Philippine embassy in Beirut, Villaluna said.
Among the LT Group's donations include 27,500 face shields, 3,000 boxes of disposable masks, and 1,000 boxes of Vitamin C.
"These will be added to the 5,000 boxes of relief goods from the DFA," Villaluna said.
The LTG has also prepared 100 cases of energy drinks, 100 cases of bottled iced tea, 50 cases of soy milk, 50 cases of bottled water, and fruit juices to distribute to arriving OFWs of PAL repatriation flights, she added. (PNA)