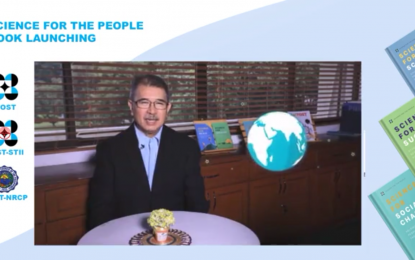 MANILA -- Three books that aim to inspire the micro, small and medium enterprises (MSMEs) and highlight the role of science and technology (S&T) in one's success, were launched on Thursday by the Department of Science and Technology (DOST).
The first series has three volumes: Science for Scale, Science for Success, and Science for Social Change.
"Science, technology and innovation are very useful solutions in everyday life. Solutions must be based on science. The books are not just for students, but for aspiring entrepreneurs," DOST Secretary Fortunato de la Peña said during the virtual launch.
Science for Scale talks about the technologies developed and adopted. Science for Success features stories on how S&T have helped MSMEs. Science For Social Change, on the other hand, highlights helping people to help themselves, he said.
The DOST has tapped digital technology expert Winston Damarillo, entrepreneurs Maret Follosco- Bautista and Robina Gokongwei-Pe, and National Research Council of the Philippines (NRCP) member Segundo Joaquin E. Romero Jr. as authors of these books.
Gokongwei-Pe shared that when she received a call from the DOST, she thought it was a prank. "Why me? I am not an engineer. I am in business. So how could I possibly write a science book?" she thought.
She said she could not say no when she learned about the book's purpose -- to show how S&T could advance businesses, and inspire others.
Both Gokongwei-Pe and Damarillo said they listened to the MSMEs' stories, challenges and roadblocks, and shared these in the books.
"MSMEs should innovate in order to keep up with the times. The degree of competition among MSMEs also increases over time," remarked DOST Undersecretary Brenda Manzano.
Meanwhile, de la Peña said the books will eventually be available in bookstores. For now, the NRCP has 250 complimentary copies, he said.
According to the NRCP, interested individuals must visit the Council's Facebook page to find out how and where electronic copies can be downloaded from September 24-25.
De la Peña said he eyes launching another book series. Among the topics, he said, will be the DOST's efforts and successes in human resource development; innovations in disaster risk reduction; innovations during the pandemic; and the DOST's Community Empowerment through Science and Technology program. (PNA)