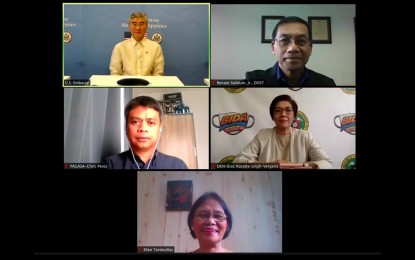 DUMAGUETE CITY – As many areas in the country are now slowly opening tourism areas amidst the coronavirus disease 2019 (Covid-19) pandemic, a key official of the Department of Health (DOH) on Friday called for a cautious approach toward reviving the sector to prevent the spread of the dreaded disease.
Health Undersecretary Dr. Rosario Vergeire was among the guest panelists in the virtual 12th Media Seminar of the United States Embassy of the Philippines titled "Media Reporting in Disaster Situations" participated in by some 140 media practitioners in the country.
Asked on how to balance the economy and health sectors in this time of crisis, Vergeire said that to open up a sector such as tourism, it has to be done with caution so as not to compromise the safety of the people.
She cited Baguio City where a study is being done to "establish a tourism bubble with the nearby provinces" and it is being done cautiously and thus a study has to be made before it is fully implemented.
"So when we do these things in order for us to strike a balance between economy and health, we need to study the situation carefully. We need to enforce the different standards that we have so that we can prevent further transmission" of the coronavirus, she said.
In Negros Oriental, the provincial government has launched its jumpstart program on tourism, with Dauin, San Jose, and Pamplona towns as its pilot areas, and with farm tourism as a primary area for promotion.
The project is done in cooperation with the local government units, the Department of Tourism, and other partners.
Aside from Vergeire, other resource speakers in the virtual media seminar were Undersecretary Renato Solidum, Jr. of the Department of Science and Technology who is also officer-in-charge of the Philippine Institute of Volcanology and Seismology, Senior Weather Specialist Chris Perez of the Philippine Atmospheric, Geophysical and Astronomical Services Administration, and VERA Files president and investigative journalist, Ellen Tordesillas.
United States Ambassador to the Philippines, Sung Kim, welcomed the guest speakers and attendees to the virtual seminar, and thanked the media for helping them "chronicle the major accomplishments and the special partnerships between the United States and the Philippines".
"We value all of you as friends, partners, and allies, because we believe that a free and responsible press is fundamental to any democratic society and you are all playing an incredibly important role," Kim said.
The U.S. Embassy in the Philippines holds a media seminar at least once a year and this is the first time it was carried out virtually because of the Covid-19 restrictions. (PNA)