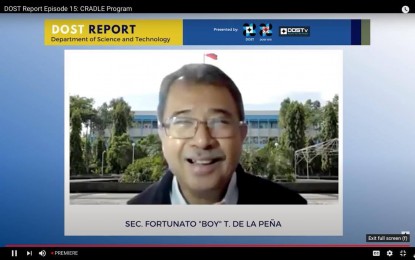 MANILA -- The National Science and Technology Week (NSTW) will be observed virtually in November, and Department of Science and Technology (DOST) Secretary Fortunato de la Peña is hoping the public would still see S&T's practical uses via online activities the agency would prepare.
"It is a big challenge for us in DOST to continue the annual NSTW celebration because of the Covid-19 pandemic. Despite not having the traditional in person celebration for this year, we are very optimistic that by conducting it in a virtual mode, still, many Filipinos across the country would learn and understand the crucial roles of science, technology, and innovation in improving our lives, especially during this time of pandemic," he told the Philippine News Agency on Friday.
Through webinars and virtual exhibits, he said many people would see the practical uses or benefits of various products and services developed by Filipino scientists and researchers, particularly in providing timely and appropriate solutions to existing challenges.
"We have designed the virtual exhibit similar to what we have done before. We will have a convention-type lobby where an information guide is provided so that visitors will be able to navigate around the virtual exhibits." de la Peña said.
The exhibit area would have four clusters, featuring technologies anchored on the four Ks: Kalusugan (health), Kaayusan (order), Kabuhayan (livelihood), and Kinabukasan (future). Five technologies will be featured per theme, according to de la Peña.
For each technology, pictures of products will be digitally presented through videos and 360-degree presentations. The technology developers will also be available to answer questions, he said.
Aside from exhibits, there will be interactive games and photo booths to make the visit more interesting to viewers.
As for the webinars, the DOST chief said the four Ks will also be the highlighted topics. There will be different topics or activities via webinars organized by different DOST agencies and regional offices. Among these topics are remote learning experiences, Covid-19 mitigation, and other DOST programs and services, including those that involve livelihood and business, safety, health, education, and community development.
The webinars can be viewed on the DOST's website, as well as its Facebook page during the event proper from November 23-29.
"I am inviting the public, especially the students, to participate in the NSTW celebration. We have prepared many things to help them understand and feel the role of S&T in everyday life, especially during this pandemic," he said.
De la Peña is also encouraging everyone to visit the event's website, www.nstw.dost.gov.ph to get more details. (PNA)