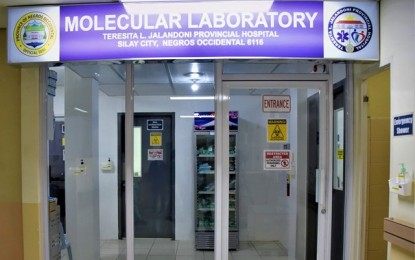 BACOLOD CITY – The Teresita Lopez Jalandoni Provincial Hospital (TLJPH) Molecular Laboratory in Silay City, Negros Occidental has increased its coronavirus disease 2019 (Covid19) testing capacity, now processing up to 1,300 samples daily since it opened on June 1.
As of Saturday noon, the hospital-based testing facility has already conducted 57,000 reverse transcription-polymerase chain reaction (RT-PCR) tests.
Dr. Mary Ann Maestral, chief of clinics of TLJPH, said in an online talk with Board Member Ryan Gamboa on Saturday night that months before it seemed like an impossible dream for the hospital to open its own molecular laboratory.
"We started humbly. We started small, and on the 106th day of our operation, we hit 50,000," Maestral said, adding that in the past two weeks, the laboratory has been running 24 hours a day.
Starting with only two equipment, including a lone RT-PCR machine, in June, the laboratory now has three RT-PCR machines and three automatic extractors.
"We can process an optimum of 1,300 specimens every day. Even more than that, we can still do it. There is no backlog," she added.
During the first week of operation, the staff were able to process an initial 250 to 300 samples per day as part of the laboratory's proficiency test.
Maestral commended the young, hardworking staff of the TLJPH Molecular Laboratory, for what the facility has accomplished in just a short period of time.
She also acknowledged the support of the provincial officials led by Governor Eugenio Jose Lacson as well as the officials of the third district, where Silay City is located.
The testing facility processes the samples collected from all 31 cities and municipalities in Negros Occidental, and also from Bacolod City.
The provincial government allotted PHP50 million, sourced from the additional Internal Revenue Allotment share of the province from the national government, to establish the Covid-19 laboratory.
It also received financial assistance of PHP5 million from the Department of Health to boost the operation of the testing facility.
As of Saturday, Negros Occidental recorded a total of 2,900 confirmed Covid-19 cases, based on the report released by the Provincial Health Office.
The data did not include the number of recovered and active cases, and deaths. (PNA)