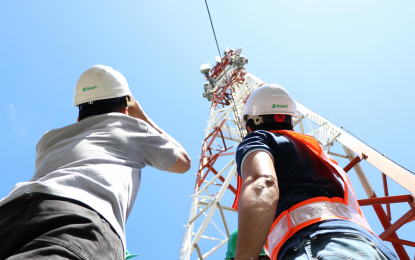 MANILA – PLDT and its wireless subsidiary, Smart Communications (Smart) Inc., on Tuesday said the expansion of its fiber and 4G network in the country has accelerated this year in response to increased customer demand due to restrictions brought about by the coronavirus disease 2019 (Covid-19) pandemic.
In a statement, PLDT said its fiber network now spans 382,500 kilometers, up 19 percent from the end of 2019, and covers 8.1 million homes, up 12 percent from last year.
"Alongside this increase in fixed network coverage, PLDT has also increased its available capacity by 8 percent to 3.78 million ports," PLDT-Smart said.
For Smart, it said the number of its LTE or 4G base stations has increased by 15 percent to 28,200 as of end of August.
"This accelerated network rollout has included the firing up of LTE sites in far-flung areas, including Pag-asa Island in Palawan and the town of Kawayan in the island province of Biliran," PLDT-Smart said.
Mario Tamayo, a senior vice president for PLDT-Smart, said "sustained" investments of the company in the past years have allowed the company to meet the surge in demand for its services brought by the pandemic.
"These investments likewise lay the foundation to support increasingly bandwidth-intensive applications which are driven by technological advancements such as 5G," Tamayo said.
On Monday, Smart announced the expansion of its 5G network outside Luzon, specifically in Boracay, Cebu, Iloilo, and Davao.
Launched in July and was initially limited to some of its postpaid users, Smart said its 5G network is now available to prepaid users in 5G areas with 5G-compatible handsets and sim cards. (PNA)