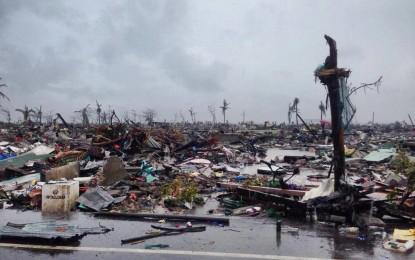 TACLOBAN CITY – The National Economic and Development Authority's (NEDA) regional office here is optimistic that President Rodrigo Duterte's directive to extend the term of the body tasked to oversee recovery efforts for Super Typhoon Yolanda-affected areas would ensure the completion of housing projects.
The extension would give enough time for the national and local governments to work together to complete still ongoing resettlement projects, especially in Leyte and Samar provinces, NEDA 8 (Eastern Visayas) Director Meylene Rosales said.
"All recommendations have been discussed and raised to the top through a series of consultation with beneficiaries and local officials. We hope that through the term extension, all housing units will be completed and occupied before the end of the President's term," Rosales told the Philippine News Agency (PNA) in a phone interview on Tuesday night.
Administrative Order 33, signed by Duterte on September 16 but was released only on Monday, extends the term of Inter-Agency Task Force Yolanda until June 30, 2022, unless earlier terminated by the President.
The task force's term expired last August 12.
The order recognizes the need to facilitate the completion of the Yolanda Permanent Housing Program (YPHP), an integral component of the Yolanda Comprehensive Rehabilitation and Recovery Plan.
In Eastern Visayas, the National Housing Authority reported that of the 52,985 housing units, 36,116 have been completed and 25,293 have been awarded to beneficiaries as of last June 25.
Lack of electricity, poor water supply, poor access to livelihood, and a highly politicized selection process of beneficiaries are among the reasons cited why many completed houses remain unoccupied.
Nearly seven years after the super typhoon ravaged the central Philippines, the Regional Development Council still tackles the progress of post-disaster housing projects, Rosales said.
The YPHP aims to build houses and create livable, thriving, and disaster-resilient communities under a township approach where resettlement sites shall be provided, not only with the basic necessities of water and electricity but also with social infrastructures, such as daycare centers, health centers, and school buildings within or near the housing project sites.
The AO also requires the task force to publish a final report on its accomplishments, including projects and programs implemented and the total budget used, copy-furnish the Office of the President through the Office of the Executive Secretary.
"Yolanda" (Haiyan), which struck the Philippines on Nov. 8, 2013, is considered one of the strongest typhoons ever recorded, with Tacloban City as its ground zero.
The typhoon's fury killed more than 6,000 people, displaced more than 14 million across 44 provinces, and left 1,800 missing. (PNA)