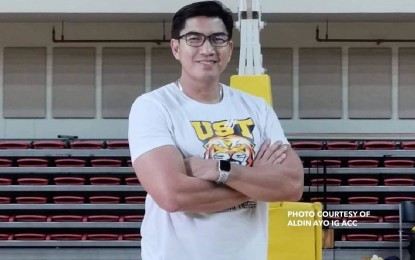 MANILA – The Sorsogon City police cleared former University of Santo Tomas (UST) coach Aldin Ayo from the alleged training bubble put up for his team.
According to the police report dated Sept. 23, which only surfaced exactly a week later on Wednesday night, there was no team practice that took place in Ayo's residence in the said city.
"Evidence shows that Mr. Aldin V. Ayo's guests stayed at his residence and had farm training in his piggery and farm," the report bared. "There was no prohibited basketball activities conducted by his guests outside of his residence and within the jurisdiction of the province of Sorsogon."
Agricultural activities like farming fall under Category 1 industries, which are allowed regardless of the kind of community quarantine a certain town is in.
The police report also debunked CJ Cansino's claim that UST players conducted team practices in Sorsogon City.
"While not engaged in farm work and training while waiting for the harvest time of palay at [Ayo's] riceland, the players were allowed to make use of a basketball court which is enclosed inside the living room of his house where the players had individual training," the Sorsogon City police further said.
The report also cited a clause in the joint administrative order for sports practices amid the coronavirus disease 2019 pandemic that athletes can train "within their areas of domicile."
"The prohibition for non-professional contact sports do not find application in a place of domicile," the police report continued.
The alleged bubble sparked the demise of what has been a promising Growling Tigers lineup that made the University Athletic Association of the Philippines (UAAP) men's basketball finals last year.
Key players like Cansino, Rhenz Abando, Ira Bataller, Mark Nonoy, and Brent Paraiso have already moved to other colleges, as well as rising stars Jun Asuncion and Deo Cuajao.
Ayo has already resigned as head coach, but the UAAP still slapped him with an indefinite suspension for the alleged bubble. (PNA)