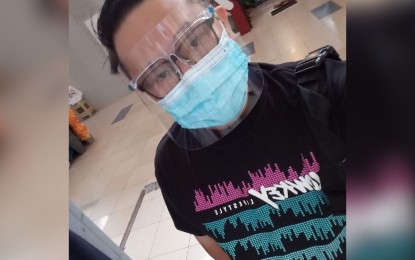 MANILA – The coronavirus disease 2019 (Covid-19) pandemic has threatened public health and impaired the economy. However, Filipinos have always proven that their resilience is stronger than any crisis, hence, enabling them to survive and rise again.
As the pandemic restricted the people's movement, many have become reliant on delivery and courier services. For Jan Ivan Josef, 32, this industry opened a window for him when Covid-19 closed his door of livelihood.
For Josef, owning a scooter proved to be a blessing as it allowed him to make a living for his family through "pasabuy".
"Before I started in 'pasabuy', I'm working as a call center agent but I was forced to resign due to the pandemic," he said in a mix of English and Filipino during an interview with the Philippine News Agency Wednesday.
Before the pandemic, Josef, a resident of Barangay Niugan, Malabon, added that he worked for local and foreign call center companies for about six years.
Through "pasabuy", motorcycle riders or owners can be contacted via their Facebook or barangay groups and could be requested to buy groceries and other essential items without the customer going outside his or her home.
Also, riders, through their Facebook accounts, can posts their activities for the day like going to groceries, markets, hardware shops and wait for other customers interested in availing of such services.
They can also be asked to line up and pay all sorts of utility bills ranging from electric, water, telephone, and even credit cards.
For these services, there are no fixed fees and riders are dependent on the kind-heartedness and generosity of their customers.
Josef recounted that he had his own share of good and bad experiences in being a "pasabuy" rider.
"(My) bad experience in 'pasabuy' was when someone requested me to pay their Meralco bill and have to queue for two hours. Other worst experiences (are) getting customers who won't give you anything at all for your efforts," he added.
However, he recalled getting a customer who requested him to do marketing and groceries. And when he was finished with the task, the customer gave him PHP700 as a tip.
As a "pasabuy" rider, Josef earns between PHP1,000 to PHP2,500 on his daily trips.
"But this job can also get stressful when you're fully booked for the day and one of your regular customers will send you a message regarding an 'urgent' errand," he added.
Also, Josef admitted that once an effective Covid-19 vaccine is developed, he will go out and look for a stable job again as he expects "pasabuy" to lose its momentum once the pandemic ends and the situation normalizes.
"It will definitely lose its momentum, in fact, my customers now are still those who availed of my services during the height of the lockdown," he added. (PNA)