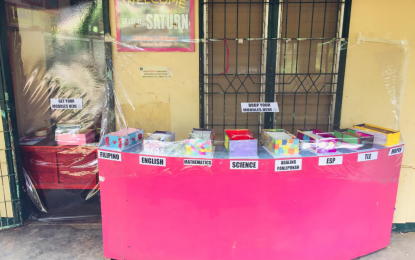 CAGAYAN DE ORO CITY – As public schools across the country prepare for the opening of classes, teachers, and parents in various parts of Northern Mindanao voiced concerns on the challenges under the "new normal" mode of learning, although they agreed that it will also offer hopes and insights on the future of education.

When the Department of Education (DepEd) moved the opening of classes from its original date of August 24 to October 5, public school educators were tasked to create modules for learners, and attend capacity-building webinars to update their skills.

Dr. Maria Eva Sayre-Edon, DepEd Education program supervisor in the Division of Lanao del Norte, said since the pandemic began that led to the eventual postponement classes, educators have used the time developing learning modules and other instructional materials.

"Teachers here are working hard in reproducing the modules, and distributing them, despite movement restrictions," Sayre-Edon said on Thursday.

Other than the printed materials, all divisions in DepEd Region 10 were tasked to produce audio-visual media materials as learning supplement. The measure was part of DepEd's plans to diversify its instructional materials, which has been adopted throughout the country.

Edon acknowledged some challenges along the way, including the high printing costs, motivating other teachers to meet the deadlines in module developments, and convincing parents to serve as para-teachers for the learners.

If there is anything positive about the new modular learning method, that would be teaching learners to become independent, said Chin Lesaca, a Grade 8 teacher of Luz Banzon Integrated School in Jasaan town, Misamis Oriental.

"There's no time for being 'sip-sip (sycophant)' for them to pass. Now they should focus on their modules on how to answer the activities and parents can also monitor," she said.

Lesaca said modular learning could actually provide insights and inform DepEd's vision about "21st-century teaching and learning."

Adapting to change

For Erika Kristina Mortola, Grade 6 teacher at Vicente N. Chaves Memorial Central School in Villanueva town, Misamis Oriental, an educator should adapt to the times like a "chameleon."

Mortola said one must know how to adjust to the changes and that despite the many uncertainties, a teacher must turn them into opportunities that will help in continue achieving the United Nation's Sustainable Development Goal 4, which is "quality education"--even amidst the pandemic.

"We have found out that learners who can't do independent learning and have illiterate parents find it difficult to grasp learning especially that the elders that they depend upon, cannot teach them because they don't know the concepts inside the module. This is one factor that hinders the effective implementation of modular learning, especially if the parents don't communicate with the teacher," she said.

Mortola also noted that during the schedule of distribution for "Self-Learning Modules (SLMs)" in her class, only half of the total number of parents picked them up. Some parents were afraid to get the SLMs in school due to the alarming local cases of Covid-19 in the community.

"Another big challenge is the reading of learners, especially in the primary grades. We cannot go and visit the learners and give them remediation or assistance," she said.

Humanizing

Meanwhile, Senior High School teacher Leo Improgo-Tan III of the Manolo Fortich National High School sees the humanizing experiences of the new normal mode of learning.

"You can see how eager some parents help us continue education. We are delighted that parents still thank us for taking the time in reaching out to their children," he said.

Tan, who works and lives in Manolo Fortich, Bukidnon, said other feedbacks include some parents saying they now understand how demanding and stressful a teacher's job can be, especially that some parents find it difficult to control or assist their children in learning the modules.

"It's encouraging to see parents who came from the hinterland communities to go here in school to get the modules, while others had difficulty coming, they ask their neighbors to get them. There are also parents who prefer to get soft copies of the modules," he said.

Challenge accepted

For a mother of five, Hanah Espinosa Carpio said she also needs to prepare for herself in helping her children learn by studying the modules, acknowledging that the new learning modality can compete with her daily household chores.

"But (we) need to be patient, and we need to study more, as a mother," she said.

Carpio has children learners in kindergarten, Grades 2 to 4 at Camp Evangelista Elementary School; another in Grade 8 at Parag National High School, all studying in the city.

She said she needed to manage the time first to understand what's written on the different modules.

Work-family balance

Mary Chol Marquez, a mother of a Grade 1 pupil studying in Macanhan Elementary School, said it might be too early to really tell the struggles of parents engaging with the learning progress of the learners.

However, Marquez said she can already attest that parents may have difficulties with using the mother tongue as the primary language used in the texts of some of the modules.

"Since my daughter is a transferee from the private school wherein English is the primary medium of communication and instruction, somehow there can be a difficulty in transition. What makes it harder is that (some) parents are not well-equipped and prepared in using the (mother-tongue) language for instruction," she said.

Marquez also said when she chose modular learning, she thought she could balance the time between work, childcare, household chores, and still provide time for her child's learning.

She said she realized that parents also need to study the module in advance so that they can provide the right instruction.

Similar sentiments from the two parents were also shared by Lurpee Gulle, whose son is now in Grade 7, studying in Lapasan National High School.

"The capability of the child depends on his or her relationship with the parents. For me, I'm a strict mother, but I might have difficulty sharing the lessons to them on subjects that I am not familiar or good at, such as Filipino, and also subjects that he is not interested in," she said.

There were also distractions in the house since it's a "comfort zone" for her child to sleep and not do the module deliverables on time, she added. (PNA)