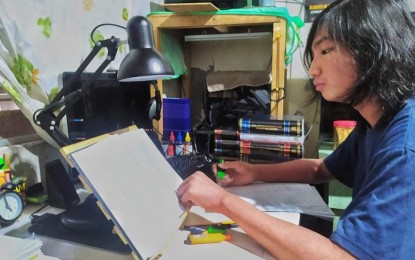 MANILA – From the traditional face-to-face interaction in classrooms, students and teachers greet each other virtually through streaming applications in gadgets and strive to continue learning as the coronavirus disease 2019 (Covid-19) lingers.
Aside from the basic education sector, even legal education is not spared from the need to adjust to challenges posed by the pandemic. Adjustments have made the situation even tougher both for instructors and students.
Sean Cage Yauder, 21, was still fresh from obtaining his baccalaureate degree in Mass Communication at the Pamantasan ng Lungsod ng Marikina earlier this year when he passed the Polytechnic University of the Philippines (PUP)-College of Law admission test.
"I never thought of becoming a lawyer until 2017, when I happened to watch a film titled "Bar Boys" at Pista ng Pelikulang Pilipino. That film made me realize that studying law was indeed the best tool to help and make people's lives better," he said in an interview via Messenger on Sunday.
For Yauder, the not-so-pleasant surprise of online classes got worse because of intermittent internet connection.
"I literally didn't expect to have my freshman law school experience to be online. I am quite adjusting with the situation right now since I haven't experienced this type of classes even before. The challenge I have encountered so far is the connectivity issues. There are times wherein I am experiencing unstable connection, same goes with my professors or classmates. It is quite a challenge especially if the professor is asking you a question but you cannot understand it because of the choppy signal," he added.
Despite being unable to find employment because of the pandemic, Yauder was able to enroll using his own savings and partially supported by his parents. As a full-time student, he believes having a "me-time" is important in dealing with the stressful workloads in law school.
"I always tend to finish my workloads ahead of time so that I can do other things like I always used to do prior to enrolling in law school like watching movies, playing musical instruments, etc. "Me time" is important especially at this type of situation for it serves as my relaxation moment. It is for our own benefit too since reading voluminous pages from cases to textbooks can sometimes be too stressful, including the pressure during classes as well," he added.
Adjust or skip for now
Atty. EC, who requested anonymity, a 52-year-old lawyer who has taught Legal Ethics for more than two decades in a number of Manila law schools, observed a decrease in the number of those taking up the course as a result of quarantine measures being undertaken to contain the pandemic.
"Last semester, I handled a class where the number got dramatically reduced after the government declared a lockdown. As it turns out, many do not have access to internet connectivity. And those students who do have it, need to spend more in terms of internet load to be able to take part in the classes," he said.
With internet unreliability, he said students would ordinarily ask the instructor to repeat what was discussed or the discussion would be interrupted.
Even when internet connection is available, Atty. EC said teaching also became doubly difficult especially for the "old guards". As a result, many of his colleagues opted to give up the semester just to avoid getting stressed by the demands of the 'new normal'.
"Unlike our young learners, who are mostly 'digital natives', not all law teachers are familiar with technology. It is not all surprising to see a few teachers who are not even familiar with the use of computers and other gadgets. Online teaching, therefore, demands so much from law teachers nowadays," he said.
This, he added, includes thorough crafting of course plans and careful selection of teaching materials to prepare students for the Bar examinations.
"Teachers ought to be innovative to combat student passiveness and to encourage learners' collaboration," he said.
He, however, conceded that the instructors' role "shift" is significant as they need to be flexible, be willing to meet this new challenge of a facilitator, and must get familiar with the new requirements like headsets, the computer/gadget, the lighting as law classes are usually nocturnal, the course guides.
"They need to innovate so the students would continue to be glued with interest. And this they need to do for, after all, necessity is the mother of invention," he said.
Atty. EC, however, sees a silver lining amid the situation.
"For one, teachers would not have to spend so much to attend classes. They don't have to travel and brave the traffic to meet their students in class, saving for themselves on gas, parking, representation and other costs," he said.
In a speech during the recent online oath-taking ceremony for successful examinees of the 2019 Bar exams, Supreme Court Associate Justice Marvic Leonen underscored that the lawyers of the future will be more burdened by technology's impact on society in general.
Online teaching of law has also altered the traditional way it has been taught in the classroom, according to Judge Ma. Rowena Alejandria, who teaches Criminal Law at the PUP College of Law, San Sebastian College-Recoletos and the University of Caloocan.
Alejandria, who teaches about 20 to 40 students in a class, noted that internet connectivity in the Philippines is bad so students come and go.
"I cannot impose rules to instill discipline and because of that the training needed for law students to prepare them to appear in court soon is compromised," she said.
She, however, believes that only the more determined students will prevail and even teachers have to make adjustments with their teaching styles since they now need to understand the predicament of students.
"This would not (be) the case if they are inside the classroom where they should comply with everything in order to pass. No adjustment, no excuses," she said.
Test of discipline
As classrooms in schools closed and opened in the homes of students through online learning, instructors cannot really monitor whether students are really taking their studies seriously.
For Atty. EC, law students, many of them are already professionals, are expected to demonstrate that level of maturity by studying on their own with the least supervision, guided primarily by the teacher-provided course outlines.
"Studying law nowadays also requires students to demonstrate their integrity – documenting all sources for all written submissions, and avoiding all forms of cheating in both oral and written examinations, actual supervision being impossible. Since instruction is online, teachers are called to be more of a 'guide on the side' rather than 'the sage on the stage'," he said.
Meanwhile. Alejandria believes that at the end of the day, discipline must come from students for them to be able to reach their dreams.
"The role of professors now in online classes is only to deliver the subject. We are incapable of pushing them to learn due to the barriers of the internet," she said.
For Yauder, perseverance and determination combined with the desire to adapt to the 'new normal' would help law students like him achieve their ultimate goal despite the health crisis.
"I know a lot of people who are currently struggling and even lose the will to study for the home used to be a time away from work/stress and just to relax. For me, there is no choice but to push hard to achieve our dreams. I have read somewhere that we, the freshmen amidst this pandemic, must bear in mind that regardless of the situation, the first day of law school is the start of our preparation for bar exams," he added. "We must do our best at all times to succeed and get that 'Atty.' title in the future." (PNA)