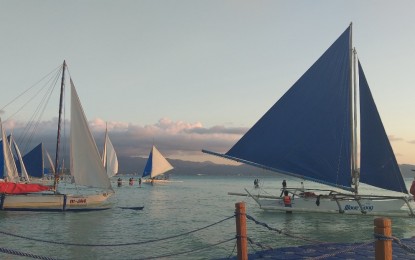 MANILA – Boracay, the country's world-class resort island, has finally opened its shores to domestic tourists, with the Philippine government touting a "safe" and "gradual" tourism revival amid the pandemic.
In a press conference on Thursday, Tourism chief Bernadette Romulo-Puyat said travelers below 21 and above 60 years old are allowed to enter the island except for those with underlying medical conditions.
A tourist planning to visit Boracay must also undergo an RT-PCR test that must be taken at least 48 hours prior to departure.
Confirmed booking in a DOT-accredited accommodation establishment, air tickets, and the negative test results should be submitted online, through http://aklan.gov.ph, for the approval of the Aklan provincial government. Each visitor who is cleared to travel to the island will then be issued a unique personal QR code for monitoring.
The island was reopened to tourists from areas under general community quarantine on October 1, almost four months since it allowed travelers from Western Visayas to enter.
'More in Undas'
About 26 tourists came on the first day of reopening, seven from Manila, five from Aklan, and 14 from different regions minus the media covering the event, Malay acting Mayor Frolibar Bautista said.
Bautista said 95 tourists were initially expected but the remaining may have failed to complete the government's health requirements.
Romulo-Puyat, meanwhile, is looking at the low turnout of visitors as an "opportunity" for the government to better assess what needs to be improved.
"I'm glass half full, mabuti nang paunti-unti muna so that we could test the protocols and I'm expecting na mas dadami pa ang tao sa Undas so mabuti na rin na konti-konti yung dumadating... slow but sure (it's better that we receive fewer tourists first so that we could test out the protocols and I'm expecting the influx in the upcoming Undas... slow but sure)," she said in the virtual presser.
The island remains Covid-free and to sustain this, Romulo-Puyat said the government would continue to provide support in ensuring that health and safety protocols are implemented.
She said the safety and well-being of tourists and residents remain the top priority of the Department of Tourism (DOT).
"We urge our visitors to be responsible tourists. Follow the guidelines, respect the rules. We can never be too complacent, even on vacation, we must adhere to the minimum health protocols. Let's wear our mask when possible," she added.
Bautista also assured that appropriate Covid-response is in place should any tourist exhibit a symptom of the respiratory disease.
"The tourist will be assessed by our triage wherein a medical staff will assess whether that person is a Covid suspect or is just experiencing symptoms not related to Covid. Once diagnosed as a Covid suspect, we will transport the tourist via or land/sea transport system and bring them in a facility in Kalibo," he told reporters.
There are around 204 Boracay hotels allowed to operate under Boracay's new normal, representing some 4,474 rooms.
DOT-accredited hotels each have a designated health and safety officer who will call the Boracay Covid Hotline number 152 should any of the guests show symptoms of the virus.
The data from the QR code system would be used to identify the close contacts, should a guest test positive for the coronavirus while on the island. (PNA)