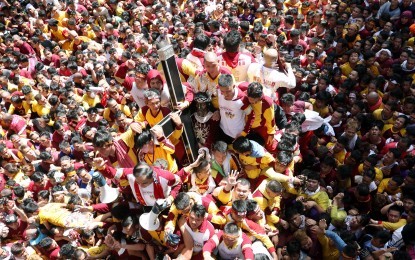 MANILA – Devotees of the Black Nazarene must prepare for a different way of celebrating the feast next year even as preparations for it are underway, a Quiapo Church official said on Thursday.
"At present, we priests are talking on what we shall propose and we in the procession committee are also holding meetings on what shall we ask the Inter-agency Task Force (IATF) on following the protocol. But we are also set on the possibility of not holding the Luneta event, as well as the other things that we usually do during the event," said Fr. Douglas Badong, parochial vicar of the Minor Basilica of the Black Nazarene, in a radio interview.
Badong is hoping that devotees will be open to the changes in the Jan. 9, 2021 celebration, amid the coronavirus disease 2019 (Covid-19) pandemic
"There will be big changes in January 9. We are hoping that devotees are open to these changes. It will only happen during this pandemic and we need their cooperation to be able to still celebrate the feast of the Black Nazarene," he said.
He added that they already sent letters to Manila City Hall and IATF as part of their preparations for the religious event early next year.
"We really need to practice or at least the people will get used to, on what we want to implement, physical distancing while they go to church for the novenario of the traslacion," he added.
The possibility of doing away with the traditional activities for the annual observance looms due to the health crisis. This includes the traslacion or the procession from the Quirino Grandstand in Luneta to the Quiapo Church which is the highlight of the feast.
Before the grand procession, among the religious activities being held at Luneta venue are the "pahalik" (kissing of the Black Nazarene) and a midnight Mass.
The procession of Black Nazarene replicas is also being held around the vicinity of the minor basilica days before the feast.
Under quarantine guidelines, religious activities are allowed at 10 percent capacity in areas under general community quarantine and 50 percent capacity under modified GCQ.
Various activities that are part of religious festivities in the country have since been called off to prevent further spread of Covid-19. (PNA)