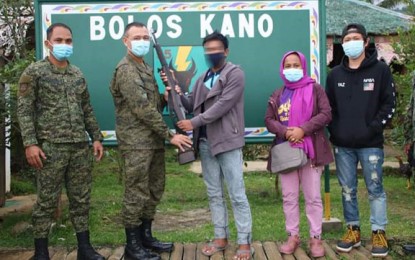 ZAMBOANGA CITY – A member of the Islamic State-inspired Dawlah Islamiya who hopes to live a peaceful life has surrendered to government troops in Lanao del Sur, a military official announced Friday.
In a statement, Lt. Col. Franco Raphael Alano, commander of the 55th Infantry Battalion (55IB), identified the surrenderer as alias "Abi", who also turned over a Garand rifle to his command in Madalum, Lanao del Sur on Thursday.
Abi said he regretted joining the Dawlah Islamiya and decided to surrender to live a peaceful life and take care of his aging mother, according to Alano.
Abi was recruited and became a full-time member of the Dawlah Islamiya during the first quarter of 2018 and was involved in a series of clashes against government forces in the towns of Pagayawan and Tubaran, Lanao del Sur.
He laid low in 2019 when Dawlah Islamiya leader, Owaida Marohombsar alias Abu Dar, was killed in a firefight with troops of the 103rd Infantry Brigade in Tubaran.
Alano commended Abi for his courage to decide to lay down his arms and return to the fold of the law.
"Rest assured, we will exploit all available options to assist you in your reintegration to mainstream society," he added.
Alano said Abi's surrender was made possible through the continuous collaboration of the 55IB's Charlie Company, Tubaran's municipal task force to end local armed conflict, and Omera Adam, chairperson of Barangay Gaput in Tubaran who helped negotiate for the surrender.
Meanwhile, Tubaran Mayor Khaledyassin Papandayan assured that they would continue to support the government's peace efforts and provide the necessary assistance to Abi. (PNA)