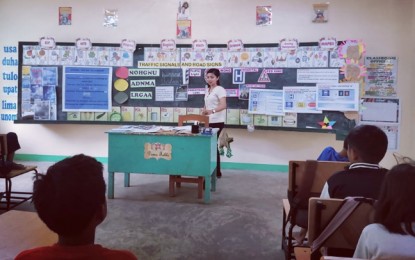 DAVAO CITY--What started to be a career is now a calling for a 27-year- old Dabawenya, who must endure two to three hours of travel just to reach a hinterland village here to teach Indigenous Peoples (IPs) kids.

Miko Dyan Pogoy, a public school teacher in Masawang Elementary School in Brgy. Salaysay, Marilog District, has been teaching Obu-Manuvu students for three years.

Pogoy said she looks forward to seeing her IP students become the next generation of skilled professionals such as doctors, engineers, policemen, educators, and government leaders.

"All my life, becoming a teacher made me feel happy and fulfilled. It gives great value to my students. There is no denying that teaching is a gift to be proud of. After all, not everyone has the heart to teach, especially to the young children," Pogoy told the Philippine News Agency in the vernacular on Friday.

Challenges

Teaching in a far-flung, mountainous area, however, was not easy, she readily admitted.

For one, it entails waking up at dawn to prepare for her travel to the Masawang Elementary School.

Living in the downtown area of the city, it usually takes her two to three hours to reach the school.
"The most challenging part of reaching the school is during the rainy season. We must cross a long stretch of the muddy road of about three kilometers," she added.

As if the road conditions were not enough, she said the non-availability of passenger vehicles in the area meant that she often comes home late.

"One of the memorable and scary experiences I had is during the time when there was no available ride going home. I was still on the road during wee hours and was waiting for a vehicle where I can possibly hitch," she recalled.

Pogoy said she considers the challenge "a gift" to be proud of.

"I consider it as a means for which God uses me as an instrument to touch lives. It has enlightened me as well as my students. They [students] are not the only one learning but I also learn the lessons of life from them," Pogoy said. "Despite the odds, I never regretted being a teacher."

Responding to the 'new normal"

Pogoy acknowledged the changes brought by the coronavirus disease (Covid-19) to the education sector, saying teachers like her must learn to adapt and make do of the available resources.

For teachers assigned in far-flung areas, the Department of Education has encouraged and trained teachers to adopt remote learning, especially when it is difficult for children to attend classes in person.

DepEd has assured that necessary support will be provided to ensure that students have continued access to educational materials and learning technologies such as the internet, short message service, radio, and television.

With the new modes of learning, Pogoy their hinterland school would prefer face-to-face instruction rather than the modular scheme.

"Here, most parents are not able to assist their children in their studies," she pointed out.

However, she assured she will strive hard to go above and beyond to deliver the optimum method of learning for her students.

"With or without Covid-19, I will always be in service to my students," Pogoy said. (PNA)