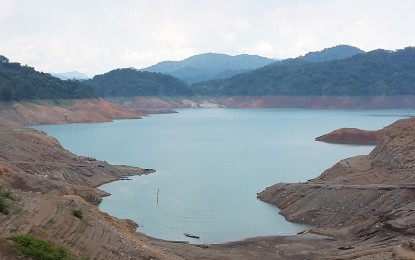 MANILA – Residents of Metro Manila may likely experience water rationing until the coming months, as the Angat Dam's current water level is below normal, and the projected rainfall is not enough to normalize it until December, said Philippine Atmospheric, Geophysical and Astronomical Services Administration (PAGASA) administrator Vicente Malano on Friday.
In an interview with the Philippine News Agency, Malano said that of the three main sources of water supply in Metro Manila -- Angat, Ipo, and La Mesa dams -- only Angat is currently below normal level.
"The problem is that the main source of water for La Mesa is Angat. Based on current data, the projected rainfall is not enough to normalize the water level in Angat even until December. (This) requires reduction of water allocation. Our climate and hydromet divisions are closely coordinating with the NWRB (National Water Resources Board)," he said.
The current allocation, he said, is 46 cubic meters per second (cms).
"It (allocation) can be reduced if people would conserve water. It is also a way to force people to conserve water," he added.
Malano, however, clarified, that he sees water is too essential this time in Metro Manila, considering several ongoing constructions.
He added that he does not see water shortage to the point that residents would not have the water, but reducing allocation is essential.
"We (PAGASA) could only suggest. The NWRB has the final say regarding the allocation," he pointed out.
La Mesa dam as of 6 a.m. Friday is at 79.10 meters at its rule curve level, while Angat Dam is at 178.37 meters above mean sea level (AMSL).
"The 178.37 m. is below 8.7 m. from rule curve (today), but still at full operational level," Malano said, adding that a rule curve changes every day.
A rule curve divides the storage volume of a reservoir in zones where different strategies for demand-supply will be applied.
Malano said there is no "normal water level" for La Mesa since its water comes from Angat. Angat Dam's normal water level, on the other hand, is 212 m. during dry season, and 210 m. during wet season.
Based on PAGASA's rainfall forecast, the Angat reservoir will be at:
* 187 m. AMSL by the end of October 2020 (with forecast rainfall of 386 mm.)
* 190 m. AMSL by the end of November 2020 (with forecast rainfall of 294 mm.)
* 188 m. AMSL by the end of December 2020 (with forecast rainfall of 129 mm.)
"Angat's water level will improve by reducing allocation to MWSS (Metropolitan Waterworks and Sewerage System)," Malano said.
"What the public should look at is the (status) of Angat, since this is the water source of La Mesa," he said.
Malano also clarified that even if PAGASA has just announced the onset of La Niña, the amount of projected rainfall for dams is not enough as La Niña would mostly affect the eastern section of Luzon, Mimaropa, and Visayas and Mindanao.
The NWRB on Friday announced it is reducing the water allocation to the Metropolitan Waterworks and Sewerage System (MWSS) and National Irrigation Administration (NIA) for the month of October.
MWSS receives 44 cubic meters per second (cms) while NIA receives 25 cms.
Despite the reduction of 2 cms to MWSS, it said Metro Manila water consumers will experience minimal to no significant effect in the water distribution.
Water supply is reinforced by local rainfall received in Ipo and La Mesa dams, the activated deep wells, and the concessionaires' water treatment plants in Putatan and Cardona, it added.
Irrigation of farmlands in Bulacan and Pampanga will also be sustained even with the decreased allocation of 5 cms to NIA due to the contribution of local flows, rainfall received in Bustos Dam and effective irrigation management.
Even though a significant amount of rainfall is expected in the coming months due to La Niña, water must be effectively managed in both supply and demand sides to ensure water sustainability.
The government seeks the public's cooperation in the responsible use of water especially as we still face the threat of coronavirus disease 2019 (Covid-19).
Aside from water conservation, Malano also advises the public to maximize rainwater harvesting during the dry season. (PNA)