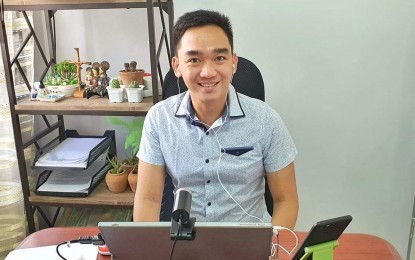 MANILA – As the world continues to pick up from the impact of the coronavirus disease 2019 (Covid-19), everyone's lives changed one way or another. These changes are evident in the way people meet and do their daily tasks. What used to be crowded places suddenly became so quiet and empty.
As life is likened to a television series or movie, the show must go on for people despite the situation. While many view the situation as hopeless and gloomy, there are still those who see a silver lining and strive to move forward with the hope of a better tomorrow.
For psychology professor James Philip Ray Pinggolio, the pandemic has brought a lot of realization and positive changes.
"The pandemic has brought many challenges, and I had a hard time adjusting. But if we look around, there are actually opportunities amid the crisis that people are dealing with," he told the Philippine News Agency in an interview on Sunday.
As a professor, the main challenge for Pinggolio is the online method of teaching.
"It is really hard as I am used to seeing my students every day. It is hard to give the lessons, assessments, and even to communicate online," he said, adding that it is also hard to require students to submit on time.
Pinggolio admitted that he is not used to just staying inside the house, as he is fond of traveling to unwind.
"There are many beautiful things this pandemic had caused," Pinggolio said.
First, he had more time for God and his family.
"I realized I forgot to give importance to my family, especially to my parents. I was busy with work. I did not have time to eat with them, bond with them, and to check how they are doing. (Before the) pandemic, I was busy and did not have the time to pray and attend the church. (The pandemic) made me realize the importance of faith in God."
Another positive side was that Pinggolio now has time to care for his physical health. Now he has the time to exercise, and even to care for plants.
Further, Pinggolio decided to put up a small business, to be more productive even if he is in his house.
"It is up to you how you would make things worthwhile. There are many things that can be done inside the house," he said.
To keep one's sanity, Pinggolio suggests balancing priorities is crucial.
"The best way for me to keep my sanity is first, accept that things change, and only God knows what will happen next. Have faith," he said.
He said it is important for people to increase positive emotions.
"We have to acknowledge the negative feelings. However, we should not forget the positive emotions. Not every day is a sunny day. There could be times that are rainy or stormy. We have to deal with it," he pointed out.
To have self-compassion is also important, according to Pinggolio.
"Do not be hard on yourself. Do not overindulge on negative feelings. Lift your spirit. Do not feel you are alone," he said.
Housewife Glenda Flaviano also saw the brighter side of the situation.
Apart from being able to bond more with her kids, Flaviano said she was able to save some money since going to the mall for non-essential purposes is restricted.
"Not much has changed in my lifestyle. The main difference now is that my kids are here. I am trying online gaming so I could play with them," she shared.
Flaviano was also able to expand her online selling business during the pandemic.
For media relations manager, Pao Oga, on the other hand, speaking with his loved ones and friends virtually, working out, watching Netflix has kept him busy to adjust to the situation.
"I was too bored thinking of the current situation and the fact that I am stuck at home. But now, I realized I have a choice to go out to buy food and other essentials," he said, adding that he was able to adjust with the situation.
As non-contact sports were eventually allowed by the government, Oga added that he is also able to play badminton with his friends while observing safety measures. (PNA)