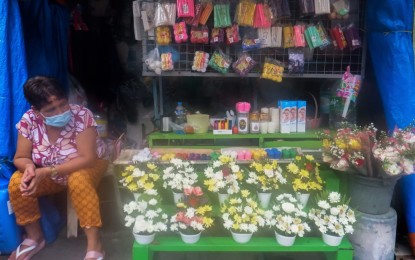 MANILA – As restrictions on mass gatherings are in place due to the coronavirus disease 2019 (Covid-19), the way Filipinos mark important occasions in their lives have changed -- both for the living and for the dead.
As the government ordered the closure of resting places for the annual 'Undas' commemoration, Filipinos, at least for this year, would now have to improvise so that they can pay their respects to their departed loved ones during this quarantine period.
For 37-year-old freelance writer Len Armea, a resident of Bulacan, the resolution of the Inter-Agency Task Force for the Management of Emerging Infectious Diseases (IATF-EID) closing all cemeteries, columbariums, and memorial parks for the 'Undas' holidays means she would have to visit her parents and grandparents much earlier than accustomed to.
"The cemetery that we (visit) here in Bulacan had already issued an announcement that it will be closed to the public for one whole week starting on October 31. I plan to go there a week or two before October 31 to bring flowers to my parents and grandparents, and then light a candle and offer prayers on All Souls' Day at home," she added in an interview with the Philippine News Agency.
Before the pandemic, Armea said she and her relatives would often spend the night of October 31 in the cemetery and then go home around 2 a.m. of November 1 and return on the afternoon of that day and on November 2.
"We observe the tradition of bringing flowers, lighting a candle, and offering prayers. It was also like a mini-reunion in the cemetery because most of our relatives would also visit and pay their respects to our dearly departed loved ones," she added.
Armea, however, said she is fine with the IATF's order prohibiting people from congregating on the cemeteries during the "Undas" holidays as part of its efforts to prevent a surge in Covid-19 cases.
"Cemeteries are usually crowded during All Saints' Day and All Souls' Day which means that there might be a surge of Covid-19 cases during these days. We still need to prioritize implementing health and safety measures. Personally, the IATF decision to close the cemeteries during these holidays is not a big deal to me because I'd usually visit my parents' grave several times in a year. I believe that we can honor our dead loved ones in so many ways, and in other days (and) times."
Meanwhile, production worker Brian Barrun, 37, from Pulo, Cabuyao, Laguna, said he would just spend the "Undas" holidays at home and will honor his deceased father by lighting a candle and saying a prayer.
Barrun said he has learned to accept that there would be no mini-reunion with his relatives in the cemetery this year.
He added that the IATF's order is for the safety of everyone as anyone in the crowd could be a carrier of the virus.
Likewise, Ramz Alamis, 26, of Tanza, Cavite, would spend the "Undas" holidays at home and just offer prayers, foods, and candles to his departed loved ones.
Alamis said that he approves of the IATF ban on cemeteries as the Covid-19 virus could have easy picking as people traditionally go en masse there during the "Undas" holidays.
And for Katherine Nepomuceno, 42, a resident of Barangay Niugan, Malabon, she is in favor of the government's move on the commemoration of All Saints' and All Souls' Days.
She added that the holiday can be observed without going into the cemeteries as people can just say a prayer and light a candle inside their homes.
"Besides, you could go to the cemeteries once the pandemic is over. At this period, safety should be our priority," she said.
Meanwhile, Angela Perez, 37, a resident of Quezon City, said she would be an early bird in visiting her departed loved ones.
She added that she would time her visit on one of the Sundays of this month.
In the past, she and her relatives often spend the "Undas" holidays by going to the cemeteries nighttime of October 31 and staying there until half-day of November 1 offering prayers, flowers, and lighting candles for the eternal repose of the souls of the deceased.
Bernard Ferrer, 28, a radio and television reporter based in Taguig City, said he and other relatives already visited his grandparents at the Manila Memorial Park in Parañaque due to the IATF rule.
He added that their "Undas' visits to the cemetery served as a reunion of sorts for their family, hence they have a lot of food.
Bernard said he is okay with closing the cemeteries for the holidays as it is more prudent to observe safety precautions as there is no effective Covid-19 vaccine yet.
He said they would be lighting candles and hearing Mass for their deceased loved ones.
Meanwhile, John Kenette Reyes, a sales agent from Taguig City, said the public should comply with the government's orders regarding cemetery visits on "Undas".
"It's okay. We just have to stick with the rules implemented by our government if we want to lessen the Covid-19 cases. Discipline is needed at this time. For me, that is the reason why our Covid-19 cases are still high," he added.
Reyes also said he would light a candle in honor of his deceased loved ones and offer flowers and prayers on either October 30 or 31 as part of the observance. (PNA)