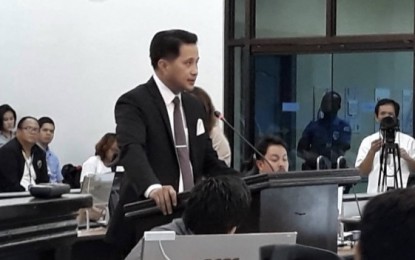 CEBU CITY – Government nurses in Cebu province are expected to get a pay raise.
This after the Cebu Provincial Board (PB) approved on Monday an ordinance increasing government nurses' daily take home pay.
The newly approved ordinance upgrades the public health nurse positions Nurse I, II, III, IV, and V of the Cebu province effective Jan. 1, 2020.
From Salary Grade (SG) 11 receiving a monthly salary of PHP22,316, which is equivalent to Nurse I positions will be increased to SG 15 and will receive PHP32,053. Nurse II will be increased from SG 15 to SG 17; Nurse III from SG 17 to SG 19; and Nurse IV from SG 19 to SG 20.
All nurses – regular, casual or contractual, full-time or part-time – employed by the Cebu Provincial Health Office, Capitol-run provincial and district hospitals and Cebu Provincial Detention and Rehabilitation Center are covered by the pay hike.
Glenn Anthony Soco, sixth district board member, noted the timely approval of the ordinance, saying the provincial government recognizes the immeasurable contribution of the healthcare workers amid the Covid-19 pandemic.
"Even before the pandemic, nurses are considered essential and vital inpatient and hospital care. In fact, it is said that shorter hospital stays reflect nurses' ability to affect efficiency as well as quality. Nurses are literally the lifeblood in any healthcare institution. They spend most of their time with patient care, emergency response, both emergency care and even outpatient medical services," Soco said in a statement on Tuesday.
The Capitol "takes responsibility for the protection and improvement of the nursing profession by establishing measures for the betterment of their working conditions, compensation, continuous nursing education and career development, while they remain in public healthcare service," he said.
Provincial health officer Dr. Cristina Giango said there are a total of 176 nurses employed for the Nurse 1 position in Cebu's district and provincial hospitals.
Of the total number of nurses, she said over 60 percent in the hospitals are outsourced.
During the PB's Monday session, provincial budget officer Emme Gingoyon also assured the legislative body that the province has sufficient funds to back the salary increase.
Gingoyon said for contractual nurses, the contract agreement must be amended to adopt the pay increase as stated in the ordinance.
The ordinance is pursuant to the adoption of the Department of Budget and Management (DBM) Circular No. 2020-4 in relation to Republic Act 9173 or The Philippine Nursing Act of 2002, Soco said.
Section 32 of RA 9173 states that to enhance the general welfare, commitment to service and professionalism of nurses, the minimum base pay of nurses working in the public health institutions shall not be lower than SG 15 prescribed under RA 6758 or Compensation and Classification Act of 1989.
The DBM issued Budget Circular No. 2020-4 on July 17, 2020 for the upgrading of entry-level positions for public health nurses.
The ordinance will take effect 15 days after its publication in a newspaper of general circulation in Cebu province. (PNA)