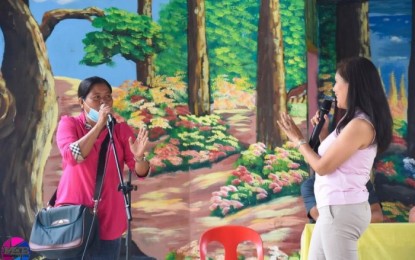 MAKILALA, North Cotabato – A total of 660 families here affected by a series of earthquakes in October last year benefited from a PHP6.06-million cash aid distributed on Thursday by the provincial government.
The recipients are the internally displaced families from Barangay Luayon who chose to stay at the temporary evacuation site in Barangay Malasila amid the coronavirus disease pandemic.
Governor Nancy Catamco, together with Mayor Armando Quibod and other local officials led the ceremonial distribution followed by a brief forum and consultation among residents at the Malasila gymnasium.
Each beneficiary received PHP10,000 from the provincial disaster risk reduction and management fund.
"We are in a gradual process of making the sustainable and appropriate solutions to your situation, and rest assured we are doing our part as your leaders," Catamco said in her message.
She also urged residents to be patient as government procedures require time to fully complete the procurement of the proposed relocation site.
A single mother displaced by the earthquake last year never thought the government still cares for them until Thursday when she received the financial aid.
"It's been almost a year since our lives were shattered by the devastating magnitude 4 earthquake that rocked Makilala and nearby towns," Mercy Alngal, 40, a mother of four said in the vernacular. She told the governor that she thought the government has abandoned them.
"I am a widow now, If I was not determined my children would have all died due to hunger but I love them that is why I work hard for them," said Alngal, a resident of Barangay Luayon, who was trapped in the village during the October 31 tremor.
She and her children were airlifted by Philippine Air Force from the village since they were trapped for two days.
Alngal and other displaced families received cash assistance. "I will use this amount to rebuild our home," Alngal said. (PNA)