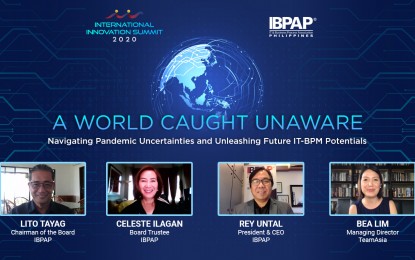 MANILA – The coronavirus disease 2019 (Covid-19) pandemic did not stop players in the information technology and business process outsourcing (ITBPO) industry to invest in their workforce, executives of the IT and Business Process Association of the Philippines (IBPAP) said Friday.
IBPAP chairman Lito Tayag said a good part of companies' investments are upskilling and reskilling of employees to accelerate digital transformation.
"Digital transformation, even before the pandemic, is one of the challenges we need to face as an industry. And therefore, investments have to be made in upskilling and reskilling our people in order to address the impact and disruption brought about by digital transformation," Tayag said in a briefing.
He added that as ITBPO's clients have accelerated digitalization, the industry has to invest also in digital transformation.
IBPAP president and chief executive officer Rey Untal added that based on numbers of the Philippine Economic Zone Authority (PEZA), investment pledges from the ITBPO sector this year were higher than last year's commitments.
PEZA reported that ITBPO investment pledges from January to July this year increased by 37 percent to PHP11.4 billion from the PHP8.32 billion in the same period in 2019.
Untal mentioned that companies have also invested in health and safety measures in the workplace to meet the government's minimum health protocol such as buying shuttles to transport their employees and additional equipment to enable the work-from-home arrangement.
"Companies have invested millions of dollars to enable their employees work from home, and these are investments that we don't even report to PEZA because it's like day-to-day operation," IBPAP board of trustee Celeste Ilagan echoed.
She added that firms continue to expand in terms of number of employees without adding spaces.
"Beyond the pandemic, many of the company have thought of the work-from-home strategy, and I think many are going to expand in that way. So it's not necessarily that company would be taking up more space but still increasing the number of their employees because work from home is already a viable option,"
Meanwhile, the IBPAP and its six partner associations will hold the 12th International Innovation Summit on November 5, 7, 10, 17, and 19, 2020.
With the theme "A World Caught Unaware", the summit aims to offer perspective on how the industry can forge ahead and solidify the country's position as top investment destination for ITBPO activities amid the pandemic.
IBPAP has partnered with associations—Animation Council of the Philippines (ACPI), Contact Center Association of the Philippines (CCAP), Game Developers Association of the Philippines (GDAP), Global In-House Center Council (GICC) Philippines, Healthcare Information Management Association of the Philippines (HIMAP), and Philippine Software Industry Association (PSIA) for this year's summit. (PNA)