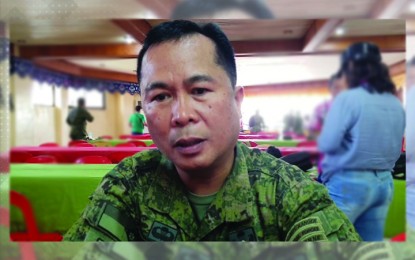 MANILA – The arrest of a female Indonesian suicide bomber and two other persons with reported links with the Abu Sayyaf Group (ASG) in Barangay San Raymundo, Jolo, Sulu Saturday highlights the resolve of the Philippine Army (PA) and other security troops to eliminate the terrorist threat.
"The arrest of these individuals is a manifestation that the Army and its subordinate units are now more capacitated to find, fix, fight, and finish the enemy. We will continue to support our troops on the ground as they go after these threats and keep our communities safe," PA chief Lt. Gen. Cirilito Sobejana said in a media statement.
Sobejana was referring to the law enforcement operation of troops from the 11th Infantry Division and other government security forces that arrested Nana Isirani also known as Renzy "Cici" Fantasya Rullie, an Indonesian female bomber.
Also arrested were Nur Aina Alihasan, also known as Inda Nhur; and Fatima Sandra Jimlani Jama; both wives of ASG members.
"Early in the morning today, the authorities implemented the search warrant to the house of local terrorist group sub-leader Ben Quirino Yadah alias Ben Tatoo at Sitio Kuppong, Barangay San Raymundo, Jolo, Sulu. Seized from their possession were several components used in making improvised explosive devices. The three are believed to be planning for their next suicide bombing," PA spokesperson Col. Ramon Zagala said.
He added that Sobejana commends the efforts of the 11th Infantry Division and its counterparts for this successful operation.
Meanwhile, Armed Forces of the Philippines (AFP) spokesperson Marine Maj. Gen. Edgard Arevalo said Rullie is the wife of Indonesian terrorist Andi/Amin Baso.
Based on intelligence reports, Rullie was supposed to bomb an area in Zamboanga City after giving birth.
"Nana Isirani/Renzy Fantasya Rullie alias 'Cici' is the spouse of Andi/Amin Baso. According to intel reports, she has committed to do a suicide bombing mission in Zamboanga City after she has given birth," he added.
Meanwhile, Arevalo said focused military operations ordered by AFP chief-of-staff Gen. Gilbert Gapay on the Dawlah Islamiya-inspired terrorist group, following the August 24 suicide bombing in Jolo which killed 14 people and wounded 75 others, has seriously degraded the capabilities of the terror organization.
He was referring to military operations that neutralized notable ASG sub-leaders which include Samir Nani, a bomb-maker who was killed last August 29; Rullie's husband Baso, who was also killed August 29; and Arsibar Sawadjaan, another bomb-maker, and cousin of Mundi Sawadjaan, who was killed last September 28.
Another factor in the decline of the ASG is the series of surrenders from the terror group due to intense pressure from the AFP.
"Gen. Gapay commends the operating units under Brig. Gen. William Gonzales, the Commander of 11th Infantry Division and Joint Task Force Sulu for this string of successes. To decisively defeat the ASG by December 2020 and relegate them to criminality problem was Gen. Gapay's specific orders for Western Mindanao Command under Lt. Gen. Corleto Vinluan," Arevalo said. (PNA)