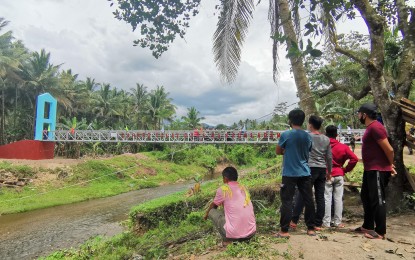 SALVADOR, Lanao del Norte – Almost three years after her near-death experience, 75-year-old Saadiya Pangantapan of Barangay Pansur in Salvador town, Lanao del Norte could still remember how she climbed a hill, which was meters away from her house, to successfully save her life.
She, however, failed to save her three sons, her daughter-in-law, and a three-year-old grandson.
It was past 11 a.m. on Dec. 23, 2017 when she ran for her life after seeing raging floodwaters, with boulders and mudslides that swallowed homes and swollen rivers swept away dwellings in the village of Pansur populated by around 1,600 residents.
A day before the deadly flooding, severe Tropical Storm Vinta (international name Tembin) pummeled Mindanao, hitting Lanao del Norte as it dumped torrential rains across the island.
Pangantapan was one of the hundreds of residents in Pansur who survived but lost her house.
The local government unit of Salvador gave her and her neighbors who lost their houses new housing units meters away from where they lived.
"My former house was located there. I climbed that hill with my other neighbors who saw the floodwaters coming down with very loud roar," Pangantapan recalled, pointing to an area with only dry lemonsito tree left.
On Friday (Oct. 9), she was looking at military, government officials, and representatives of a private foundation passing in front of her going to the newly-constructed 40-meter cable suspended steel and concrete hanging bridge in their community, just a stone away from where her former house once stood.
The GMA Foundation constructed the bridge in cooperation with the Rotary Club of Araneta, Quezon City which donated solar-powered lightings that would help residents passing especially during brownouts.
Rikki Catibog, executive vice president and chief operations officer of GMA Kapuso Foundation, said the bridge was designed to carry five tons of live load and can withstand 250 kilometers per hour wind speed.
The Army's 54th Engineer Brigade commander, Brig. Gen. Tony Cacayuran, said the bridge was constructed with unique features of reinforced concrete bridge towers, steel framing, and bridge decks system with fixed crossed braces, independent wire rope core, and double carrying cable.
It also has access ramps for tricycles that would bring the farmers' products to the town proper which is five kilometers away.
"May mapapatungan na kami kung may malaking baha ulit dito sa amin (We have a place to go if there will be flooding here)," Pangantapan said while looking at the officials cutting ribbons during the launching of the bridge.
Pangantapan shared that she still has trauma whenever heavy rains pour, and she is still mourning the deaths of her three sons, daughter-in-law, and grandson.
Only the body of one of her three sons was recovered when the floodwater subsided.
More comfortable life
Another flood survivor, Hamid Disimban, was glad that after almost three years, he will be given a more comfortable life as he regularly brings his farm products to the town proper for selling during market day.
Pansur is about five kilometers away from the town proper.
Farmers transport their products using a tricycle or motorcycle.
"Madali na sa aming magdala ng aming produkto papuntang Salvador (town proper), hindi na kami mahihirapan (It would be easier for us to bring our farm products to the town proper)," said Disimban, a farmer who lived across the river.
The original bridge in the area was destroyed by Vinta and since then, they have to carry their products as they cross the river -- the same area that killed 23 Pansur residents, including nine children, according to barangay chairman Moamar Tawan-tawan.
Aside from the bridge the foundation constructed, it also built a two-classroom building in addition to the existing two buildings, with two classrooms each for Pansur Primary School (PPS) which was built almost two decades ago.
These two structures were constructed by the Army engineers in June this year despite the pandemic.
The school now has 75 learners from Kindergarten to Grade Six enrolled for the school year.
When storm Vinta smashed the village, most of the children who died from the flash flood were pupils of PPS.
"With the construction of this additional school building, our children here will no longer walk for one hour to go to the next barangay or walk for 30 minutes to go to the nearest school but had to cross the river," said Hanifah Radiab, the school principal.
The Army's 55th Engineer Brigade helped built the school, assisted by the 54th Engineer Brigade.
Catibog said the building can withstand up to an Intensity VII earthquake.
"It is 100 percent 'buhos', not made of hollow blocks with toilet inside and we used concave blackboards so that no termites could stay," Catibog added.
With the additional classroom, the school will now become a complete elementary school.
"We are now waiting for the approval of additional two teachers for grade three to grade six learners," Radiab said.
In the past 19 years, PPS only has two teachers who handled the kindergarten and grade one.
Grade three to grade six pupils were only accepted this year after receiving assurance that the additional school building will be finished and can be used if face-to-face learning is back to normal.
During the distribution of modules, the two teachers helped each other to reach to the parents.
"Tulungan na lang muna silang dalawa habang naghihintay na dumating yung ni-request na dagdag na teachers. It was good as approved kasi qualified naman ang community na malagyan ng kumpletong grado (They have to help each other while waiting for the additional two teachers they requested. It is good as approved because the community is qualified to have complete grade levels)," said Rasmila Cosain, senior education program specialist of the Department of Education in Lanao del Norte. (PNA)