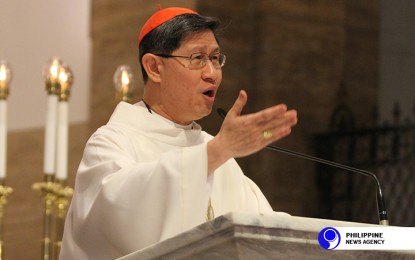 MANILA – Manila Archbishop Emeritus Luis Antonio Tagle is now back in the Vatican after his visit to the Philippines for a month.
The Catholic Bishops' Conference of the Philippines (CBCP), in a report on its website on Monday, said the Cardinal arrived in Rome on Sunday after he left Manila on Saturday evening.
Before leaving Manila, Tagle celebrated Mass on Sunday morning in his hometown Imus, Cavite.
He is now back in Vatican for his work as prefect of the Congregation of the Evangelization of Peoples.
Tagle arrived in the country on Sept. 10 for a brief summer vacation, where he was tested positive for coronavirus disease 2019 (Covid-19).
He was asymptomatic and went on quarantine. He took another swab test after two weeks which yielded negative results.
Tagle was in the country to visit his parents in Imus, especially his mother, who celebrated her 90th birthday on Sept. 30.
On October 4, he presided over a Mass at the Manila Cathedral after recovering from the disease.
The Cardinal led the blessing of a Covid-19 testing laboratory run by the Philippine Red Cross in Mandaluyong City on Oct. 8. (PNA)