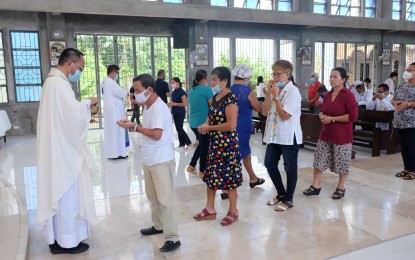 DUMAGUETE CITY – With still no approved vaccine for the deadly coronavirus disease 2019 (Covid-19) that has caused a pandemic, many people suffering from its effects, particularly the restrictions that come with it are inclined to be vulnerable to diabolic attacks, a Catholic priest-exorcist here said.
Fr. Ronaldo Ablong, who is the priest-in-charge of the St. Vincent Ferrer quasi-parish in Barangay Camanjac here, told the Philippine News Agency in an interview that people who are dealing with mental, emotional, spiritual, and even physical stress and other disorders in this time of crisis are the ones prone to Satan's and his demons' deceptions.
"The devil is always around 24/7, and rides on to events in our surroundings, such as our problems, trials, illnesses, pain, and crisis," he said.
"Gani, pagsugod sa pandemic didto sa Manila, ang mga exorcist naghimo sila ug deliverance prayer, ug naka dawat gani ko ug call kung pwede nga akong mahimong live ang maong prayer (In fact, at the start of the pandemic, the exorcists in Manila came out with a deliverance prayer and they called me and asked me to join them and if I could also share via live-streaming their nightly prayer) to curb the effects of the devil's actions especially at a time of confusion," he added.
Ablong said two things can happen in this time of great trial brought about by the pandemic. "Either we grow spiritually or we get discouraged and then we question God why is this happening," he said.
"The ordinary action of the devil is temptation which happens every day and to anyone but there is also what we call extraordinary diabolical action," the priest said.
"We have to be humble as we are not in control of the situation," he said of the pandemic. "Even rich countries and the most powerful in the world are not spared from the Covid-19."
Ablong said when people feel helpless, they usually turn to God. "But we have to be careful because the devil is wily and he will put us in a discomforting situation and discourage us," he said.
The 51-year-old priest, who has investigated scores of demonic attacks, and performed religious rites in "evicting demons and diabolical spiritual forces", has been in the deliverance and exorcism ministry for over three years now, dealing with people who have been demonized and releasing them from the "bondage" of the devil.
Ablong said many people usually tend to associate exorcism with demonic possession but are not aware that there are different stages or forms of diabolical attacks, from slight to moderate to severe, whether the devil is outside or inside of a person, and demonic infestation of places and objects.
These are obsession or when the devil attacks a person mentally through "negative and excessive thoughts" that that person cannot control; diabolic oppression or harassment, where a physical attack takes place and a person is harmed; and diabolical possession, when a demonic spirit takes over the body of a person, the priest said.
It only needs an "opening" for these things to take place, he said.
He cautioned people against engaging in occult practices, such as playing the Ouija board, Spirit of the Glass, soliciting the help of palm readers, card readers, and fortune-tellers, and practicing witchcraft.
"The devil does not come unless he is invited. He only comes into our lives if we invite him and usually, it is through occultism, and this will give them the legal right to operate in your life," the priest further said.
In one of the cases that he handled, it turned out that the parents had offered their child to Satan because of certain beliefs, and the diabolical attacks of not just one member but the entire family started. It took months before they were finally "released" through the performance of exorcism rituals, masses, other forms of prayer, and their conversion to and baptism in the Catholic Church, he said.
Asked for recommendations on how to address this vulnerability, the priest said that foremost is for people to lead a prayerful life, and for those who go astray, to return to God, receive and avail of the sacraments, particularly confession, communion, and attending the mass, and avoiding occultism.
Also, one must avoid mortal sin because "habitual mortal sin can lead you to diabolical oppression".
He also emphasized the invocation of the Blessed Virgin Mary, who he describes as "the mortal enemy of Satan because she is not a creature but just a human being, but because of God's grace, she is able to overcome the ways of Satan.
While the world continues to grapple with the novel coronavirus that has claimed the lives of more than one million people globally as reported by the World Health Organization, Ablong urged the people to continue to put their hope in the Lord and not to despair despite what is happening around.
"Nothing happens by chance. God has a reason for this pandemic. That is why we have to go back to God," the priest said.
There may be many uncertainties about the coronavirus and the future, "but because of the pandemic, more and more families get to pray together, eat together…they can have bonding time and more time for themselves," Ablong said. (PNA)