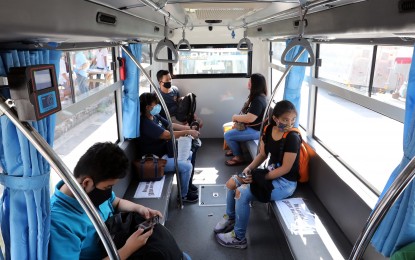 MANILA – Transportation Secretary Arthur Tugade has ordered the transportation sector to implement the "one-seat apart" rule to increase public transport capacity, operationalize more public utility vehicle (PUV) routes and units, and accelerate service contracting for buses and jeepneys to accommodate more commuters, while strictly enforcing health protocols.
This was after President Rodrigo Duterte and his Cabinet decided to approve the recommendations proposed by the economic development cluster to aid economic recovery.
Tugade directed the agencies to adhere to the Department of Transportation's (DOTr) Operation Plan AIR (Add routes/PUVs, Increase speed/capacity, Reduce travel time) to serve as the baseline in formulating and implementing transport initiatives to increase public transport capacity, especially while the government is aiming to revive the country's economy amid the pandemic and under the "new normal".
He ordered the immediate adoption of the "one-seat apart" rule to increase the present capacity in PUVs and gradually increase capacity or allow sitting together, provided that plastic barriers are placed in between passengers, or that UV lights are used.
The Land Transportation Franchising and Regulatory Board (LTFRB) will issue a clarificatory memorandum circular explaining in detail the "one-seat apart" rule and the use of measures to increase capacity while ensuring the safety of passengers inside PUVs.
Tugade also ordered the LTFRB to open up more public transport routes and authorize more roadworthy units, such as provincial and city buses, as well as public utility jeepneys (PUJs).
He directed the agency to allow the operation of additional transport network vehicle services (TNVS) and taxis.
Under the current policy, there is no cap on the number of additional taxis and TNVS units to be deployed so long as they are accredited by the transport network corporations (TNCs) for purposes of contact tracing, are authorized to operate (with appropriate CPC or PA), and are compliant with public health protocols set by the inter-agency task force addressing the coronavirus disease 2019 (Covid-19).
Return of motorcycle taxis
Regarding the clamor for the return of motorcycle taxis on the streets, Tugade reiterated that the DOTr would fully support this, provided that a Congress resolution is passed to serve as the department's legal basis for its implementation.
"The DOTr recognizes the role of motorcycle taxis in transporting our commuters to their destinations. Malaking tulong ho ito lalo na ngayong limitado pa din ang kapasidad ng pampublikong transportasyon. Kaya nga ho ba (This is a big help, especially now that capacity is limited in public transportation. That's why), as long as there is a Congress Resolution, which will be our legal basis to allow the operation of MC Taxis, we will fully support this. We will abide by the directive of Congress and the IATF on the health and safety protocols," he said.
Easing processes on shuttle service use
To add more transport service for employees and workers, Tugade ordered the LTFRB to speed up the processes needed for the deployment and operation of shuttle services.
"Noon pa man, binigyan ko na ng direktiba ang LTFRB na dapat pabilisin ang proseso. Ayoko ng may prosesong matagal at manghihingi pa ng permit. Nasa pandemic tayo (I have ordered the LTFRB to hasten the process. I don't want a delayed process that needs permit. We're in a pandemic). We should just observe the basic protocols," he said.
To recall, the LTFRB issued Memorandum Circular 2020-039 dated last August 17, which exempts shuttle services for transport workers during the general community quarantine (GCQ) from securing franchise or Certificate of Public Convenience (CPC), so long as they fall under the exemption on the following conditions:
1) Vehicles must be secured by a Contract of Lease for at least three months but not exceeding Dec. 31, 2020, and the contract must at all times be readily available for presentation during on-road operations or as the board deems necessary;
2) Vehicles must be used and driven by the lessee or his/her authorized representatives;
3) Vehicles must be currently registered and covered by a comprehensive passenger insurance policy; and
4) Vehicles subject to the lease contract shall bear the proper marking of the company that it is servicing for identification.
For PUV operators contracted by private companies for shuttle service, they may apply for special permits, which is expedited through the LTFRB's online facility.
The permit is issued within the same day of the filing of application provided all requirements are submitted online.
Service contracting
Meanwhile, to give transport operators and drivers a steady source of income while improving the commuters' riding experience, Tugade ordered the LTFRB to accelerate the implementation of service contracting for buses and PUJs this month.
According to the implementing guidelines on the PUV service contracting program released by the LTFRB last October 8, a "Net Service Contracting scheme" will be implemented, under which payments will be calculated based on rates set for the distance and routes that drivers will be covering over a particular period.
In this scheme, the government will pay drivers a subsidy that will cover the cost of service rendered per kilometer by their buses and jeepneys plying on specific routes, based on a set of performance indicators.
Expanding rail, maritime, air transport capacity
Aside from PUVs, Tugade ordered the rail sector to increase passenger capacity by 30 percent to 50 percent.
In the maritime and aviation sectors, he directed agencies to allow more roll-on/roll-off (RoRo) ferries and more flights to cater to passengers.
7 commandments
To curb the spread of Covid-19 amid these developments, Tugade ordered the transport sector to ensure the strict enforcement of the seven commandments inside public transport, as recommended by health experts:
1) Wear face masks and face shields;
2) No talking and making phone calls;
3) No eating;
4) Keep PUVs well-ventilated;
5) Conduct frequent disinfection;
6) No passengers with Covid-19 symptoms would be allowed inside public transportation; and
7) Observe appropriate physical distancing ("one-seat apart" rule). (PR)