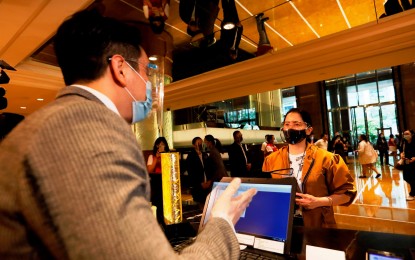 MANILA – The Philippines' test before "staycation" policy is touted to ensure safer operation of leisure hotel stays in areas still under general community quarantine (GCQ).

During an inspection at the Grand Hyatt Manila on Wednesday, Tourism chief Bernadette Romulo-Puyat said the Philippines is one of the first countries, if not the only, to require such a test.

"Staycation is nothing new, (it's) been done in Singapore, in Japan, and it's very safe that's why we follow the minimum health and safety protocols... with other countries pa nga wala nang (have no) antigen testing but the IATF decided to add it to make sure that everybody that checks in is negative," she told reporters.

Metro Manila remains in GCQ, the more restricted classification next to modified GCQ with tourism not yet allowed.

To slowly revive the hard-hit sector under this area, the Interagency Task Force for the Management of Emerging Infectious Diseases last month allowed hotels to accept "staycationers" provided they submit a negative antigen test result before check-in.

For Puyat, this added protocol ensures safer conduct of staycation both to the hotel staff and guests as antigen testing has "100-percent" specificity in detecting positive coronavirus disease (Covid-19) cases.


During the inspection, the official has undergone the antigen test which yielded a negative result in just 15 to 20 minutes.

She said dialogue with stakeholders would continue as protocols for staycation are bound to change.

"Protocols are changing; that's why we are in constant communication with the hotels. While we all long for a little bit of fun with the family, it is the responsibility of hotel operators to make sure that the health and safety of their guests and employees are not compromised," she said. "We'll see how it goes but it's a continuous dialogue, case in point before tourism is totally restricted in GCQ but now (staycation) has been allowed at least so we'll see how it goes."

To date, there are 10 star-rated hotels with DOT's certificate of authority to operate for a staycation (CAOS), including the Grand Hyatt, Makati Shangri-La, Okada, Shangri-La at the Fort, Nobu Hotel City of Dreams (COD), Joy Nostalg Hotel and Suites, EDSA Shangri La, Solaire, Hyatt regency COD, and Nuwa COD.

There are 28 DOT star-rated hotels in Metro Manila, 16 five-star, and 12 with four stars. Under DOT-issued guidelines, hotels operating as quarantine facilities cannot apply for CAOS.

Only 4-star and 5-star hotels are allowed to apply for such certificate as those with 3-star ratings and below are reserved for isolation of returning overseas Filipinos.

Puyat said these protocols were suggested by the IATF itself and will remain.

"The medical experts of the IATF were very strict in saying that we cannot mix a quarantine facility with a staycation facility... so far all the medical experts in the IATF said it is not safe to mix," she shared.
While all ages allowed to check-in for a leisure stay, those with underlying medical conditions, or are pregnant are not permitted to enter the accommodation establishment.

Authorized hotels are also required to develop staycation packages that are appropriate for the present market demands and conditions.

At Grand Hyatt Manila, general manager Gottfried Bogensperger said a staycation for a family of four that includes children would range about PHP9,900 sans the antigen test.

"It's great to see that we're moving forward and that's important and the safety is the most important part of the staycation that people who come here will feel safe," he said.

Alfred Ty, Grand Hyatt Manila owner, also hailed the decision of the government to allow the leisure market in GCQ areas as this would help the hotel sector at least bounce back from the impacts brought by the pandemic.

"It's been very difficult for the business but nevertheless we understand the dangers of this virus and so we are implementing all possible measures to ensure the safety of the guests," he said. "We learned a lot of things in this past 6 months thanks to the efforts of the IATF. Every day is a learning process so we cooperate with all the measures being implemented by the department." (PNA)