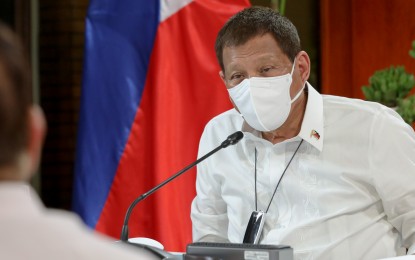 MANILA – Corruption at the Department of Public Works and Highways (DPWH) remains widespread, President Rodrigo Duterte told lawmakers on Wednesday night.
Duterte made the statement after Congress on Tuesday started its special sessions into the proposed PHP4.5-trillion national budget for 2021.
"If Congress would want really to know, ang mga project ng DPWH mayroon talaga 'yan para sa give. Hindi ko --- hindi ko alam kung sino (there is corruption embedded in the projects of the DPWH. I just don't know who is involved)," he said.
"There are so many officials lined up in the bureaucratic maze so hindi ko alam kung sino diyan (so I don't know who they are)," he added.
According to Duterte, contractors were scheming with the DPWH to carry out corrupt practices.
"Ito lang, itong mga contractor. The first whiff, makaamoy ka lang na hinihingian ka… Dito sa DPWH malakas 'yan diyan (These contractors. The first whiff, you can already smell they'll ask money from you… Here in the DPWH, it's strong)," he said.
"Yung mga project engineers, iyan, iyan lahat, road right-of-way, grabe ang corruption diyan. Walang --- walang construction na uumpisa dito na walang transaction (The project engineers, road right-of-way, corruption there is massive. There's no construction that will start without transactions made)," he added.
Senate Minority Leader Franklin Drilon earlier questioned the DPWH for having PHP345 billion in lump-sum appropriations under its proposed 2021 budget.
He also questioned why over 50 percent of the agency's total budget was lodged under the DPWH central office.
Last month, DPWH Secretary Mark Villar earlier denied that there were lump sums in his agency's budget.
The DPWH is slated to get PHP667 billion, a 52 percent increase from this year's budget.
The Duterte administration is building roads, bridges, airports, railways among others under the 'Build, Build, Build' infrastructure program. (PNA)