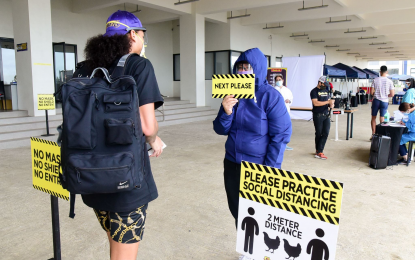 MANILA – The first teams that entered the so-called "Calambubble" of the Chooks-To-Go Pilipinas 3x3 President's Cup have been cleared of the coronavirus disease 2019 (Covid-19).
League commissioner Eric Altamirano announced on Thursday that the seven teams that arrived at the Inspire Sports Academy in Calamba have tested negative for the dreaded virus.
"We are glad to announce that all 33 players that entered our bubble have tested negative for Covid-19 and are ready to begin practicing on Friday," said the veteran mentor.
The players from Family's Brand Sardines - Zamboanga City Chooks, Uling Roasters - Butuan City, Bacolod Master Sardines, Nueva Ecija Rice Vanguards, Palayan City Capitals, Big Boss Cement - Porac MSC Green Gorillas, and Pasig - Sta. Lucia Realtors arrived at Inspire on Wednesday and quickly underwent reverse transcription - polymerase chain reaction (RT-PCR) testing afterward.
With the negative results confirmed, the seven squads can begin their practices on Friday.
Zamboanga City, tagged as the heavy favorite to rule the season-opening conference, consists of Joshua Munzon and Alvin Pasaol, two members of the national team to the FIBA 3x3 Olympic Qualifying Tournament next year, Troy Rike, and Santi Santillan.
Among the teams that could give Zamboanga City the big challenge is Nueva Ecija, consisting of Jai Reyes, Gab Banal, Tonino Gonzaga, Mac Sabellina, and guest player Juan Gomez de Liaño.
Butuan also built a solid roster for the tournament, fielding in Franky Johnson, Karl Dehesa, and Chris de Chavez, known figures in the local 3x3 circuit, and former pro 5-on-5 veterans Chico Lanete and JR Alabanza.
On the other hand, the other five clubs competing in the President's Cup, Zamboanga Peninsula Valientes MLV, Pagadian City - Rocky Sports, Petra Cement - Roxas City Rockies, Sarangani Marlins, and Bicol Pro 3x3, have made it to the "Calambubble" as well.
The RT-PCR results of these teams are expected to be released by Friday and those who test negative for Covid-19 can practice starting Saturday.
The Chooks-To-Go Pilipinas 3x3 President's Cup will run from October 21 to 30 at Inspire with a pre-season tournament happening on Monday. (PNA)