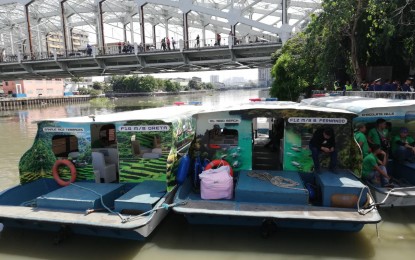 MANILA – The Pasig River Ferry Service is now open to the public two days after tons of water hyacinths clogged portions of the Pasig River, causing a temporary suspension of the service.
In a message on Friday, Metropolitan Manila Development Authority (MMDA) spokesperson Celine Pialago announced the return to operation of the PRFS from Escolta Station in Binondo, Manila to Nagpayong Station in Pinagbuhatan, Pasig City.
"Pinagbuhatan, Pasig to Escolta [is now open]. Biyahe 7 a.m. nag-start (Trips started at 7 a.m.)," Pialago said.
From Escolta Station, the next stop would be Lawton Station in Quiapo, Manila; followed by Pureza PUP in Santa Mesa, Manila; Santa Ana and Lambingan Stations in Santa Ana, Manila; Valenzuela in Makati, Hulo in Mandaluyong; Guadalupe in Makati; and finally, San Joaquin and Nagpayong Stations (Pinagbuhatan) in Pasig City.
The stations that are not included in the route are Plaza Mexico in Intramuros, Manila, and Maybunga Station in Pasig.
To address the constant invasion of water hyacinths in the Pasig River, MMDA personnel on Thursday collected a total of 1,350 cubic meters of water hyacinths from October 1 to 14 alone.
On Wednesday, the ferry's services were suspended after being reopened for less than a week due to the waterways of Pasig River being choked by water hyacinths. (PNA)